The National Auction Round Table 2018
Brought to you by Elite Agent in Partnership with realestate.com.au Agent Advantage
Our round table participants (L to R): Matthew Scafidi, James Bell, Alec Brown, Josh Hart, AJ Coleman, Stu Benson, James Keenan, Andy Reid, Karl Secondis, Tom Panos, Will Hampson, Gavin Croft, Peter Gourdouros, Steve Carroll (Panel Facilitator).
Sold Above Market - video series
Grab a seat at the table in our seven part video series discovering in depth best practices in Auctions as told by our leading auctioneers.

Other videos in this series TRANSCRIPT Steve Carroll: Are agents using social media well to promote themselves? To promote auctions? I'll kick off with yourself.
Watch More »
Short, sharp and useful: here are some quick tips and tricks for agents from some of the best auctioneers in the business.
Other videos in this series TRANSCRIPT I think in my marketplace one of the key things is actually using auction. We're a marketplace which doesn't
Watch More »
Other videos in this series TRANSCRIPT My advice to an agent coming into real estate is to embrace the auction process because it is a
Watch More »
Other videos in this series TRANSCRIPT I think the best piece of advice for agents when running an auction campaign is to have a really
Watch More »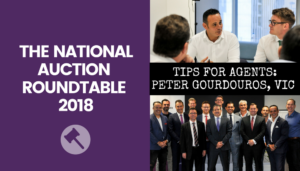 Other videos in this series TRANSCRIPT For all you agents that are thinking that auctions, you gotta remember that communication is the key. You got
Watch More »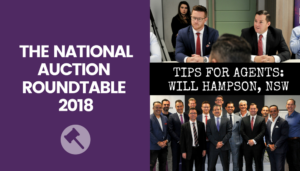 Other videos in this series TRANSCRIPT So, what really makes a successful auction campaign is great marketing, stand-out marketing, presentation of the property, having really
Watch More »
Other videos in this series TRANSCRIPT The advice I'd give to agents that I work with all the time is, clearly, to make sure that
Watch More »
Image Gallery - Go Behind the Scenes