Queensland has seen record numbers of interstate buyer and renter digital inspections in the past six months, a trend which is showing no signs of slowing.
Little Hinges, Australia's largest virtual tour provider, analysed almost two million digital inspections from January to June 2023 and found that Queensland is still the hottest property location for both buyers and renters, with a number of regions in the state showing continued month-on-month growth. 
More than 30 per cent of buyer inspections and 25 per cent of rental inspections were conducted from states outside Queensland in 2023, and 7.2 per cent of buyer inspections and 8.2 per cent of rental inspections were from overseas.
The Sunshine Coast saw its highest percentage of interstate and international inspections so far this year in June, with almost 40 per cent of buyers coming from interstate, 7 per cent coming from overseas, and almost 10 per cent of rental inspections coming from overseas.
For the six months to June 2023, the Sunshine Coast saw an average of 34 per cent of all buyer inspections coming from interstate, and 6.8 per cent coming from overseas.
International buyers continue to drive demand for Queensland properties with more than 7 per cent of buyer inspections and 8.2 per cent of rental inspections coming from overseas in the six months to June 2023.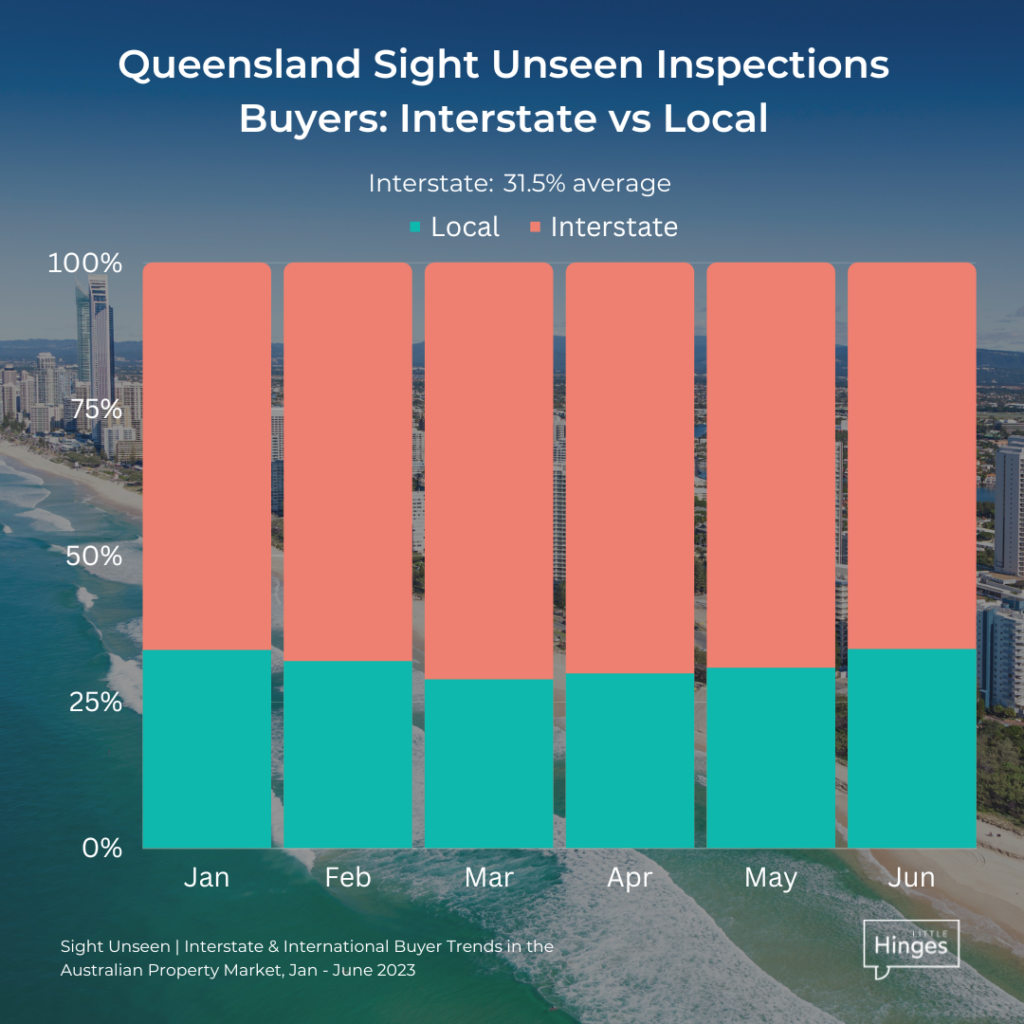 "Last month, we saw the highest percentages of buyers inspecting property from interstate (24.6 per cent), and the percentage of international inspections were the highest they have been since January 2022 (8.2 per cent)," Little Hinges CMO Mike York said.
"These trends are being reflected in the market, with agents and property managers seeing a significant uptick in the number of both buyers and renters who are inspecting property sight unseen."
Peter Florentzos, Partner at LJ Hooker Property Partners, said, "We're seeing a significant increase in the number of prospective buyers looking to make the move to Queensland, particularly as confidence continues to increase after three consecutive holds on interest rates.
"We're using Little Hinges virtual tours on every property we list to allow us to open up the properties on our books to this huge pool of potential buyers.
"While we're still seeing more buyers than sellers, we're starting to see more listings coming through based on the data that's showing a big spike in the number of buyers looking to relocate to Queensland."
According to Mr York, the six month report also shows the highest percentage of renters inspecting from both interstate and internationally since digital rental inspection data collection began in January 2023.
Suzana Wade, Principal of Locate Property, said, "We've seen a huge uptick in the number of renters who are inspecting properties, sight unseen.
"Tenants from the southern states have been the ones making the most use of our digital inspection offering, with the majority looking to move from Victoria or NSW."
Mr York said agents were reporting that vendors and landlords were keen to tap into this trend, and were listing their properties in increasing numbers, buoyed by the fact that there has been two consecutive months of holds on interest rates.
"Real Estate agents and property managers who aren't utilising digital inspection tools to open up their properties to interstate and international migrants are potentially missing out on one-in-three buyers and one-in-four renters, which is massive," he said.
To see an example digital inspection click here.
To get an example of Little Hinges all-in-1 sales and marketing pack sent to you, head to their website.