The 2022 Governance Institute of Australia Ethics Index has been released and, once again, real estate has ranked pretty low on the list of ethical occupations.
But we're not going to say too much more about that because we know a great percentage of agents who are hardworking, honest and caring folk who not only strive to do right by their clients but their communities in general.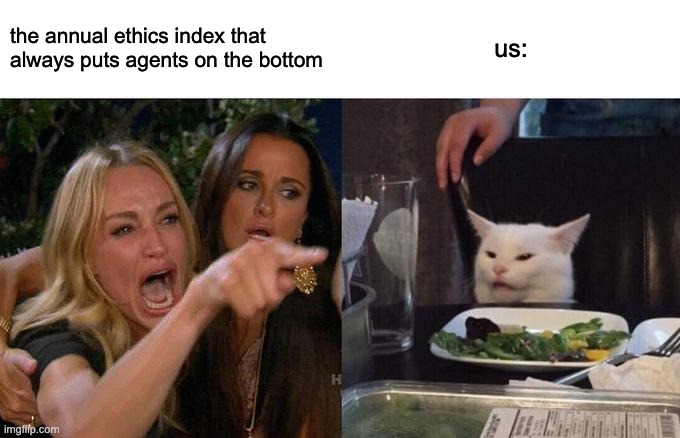 So, in this piece, we thought we'd remind everyone of just some of the amazing community work that agents do.
How to save a life
When PRD Northern Rivers Principal Rob Horder got up on Sunday, February 27, he never imagined he'd finish the day with his office underwater and help save a tenant's life.
But that's exactly what he did. Despite floodwaters having surged through his Lismore office, when a nurse rang to say one of Rob's tenants couldn't get to his dialysis appointment, he went around and picked him up.
"They put him in a helicopter and took him to Lismore. The nurse rang back a couple of days later to thank me, saying he probably got within half an hour of losing his life," Rob said at the time.
Baby Shark, doo-doo, doo-doo
A few years back, a story went viral about Sydney real estate agent Melissa Hatheier doing her best impersonation of Steve Irwin when she rescued a baby shark.
Somehow the sea creature had made its way into the Oak Park rock pool. Spotting the intruder, Melissa picked up the 1m-long baby shark and popped it back into the ocean.
3. Beyond the Bricks
The 2020 bushfires were one of the nation's worst natural disasters, but it brought out the good in people. Led by Ray White Woodside owner Angus Campbell, numerous real estate brands joined forces to launch Beyond the Bricks.
The campaign to help victims of the devastating fires across the country raised more than $1 million.
4. Beyond the call of duty
Gold Coast property manager Jamie Wernert went above and beyond the call of duty when she set up a GoFundMe page that raised more than $40,000 for her elderly tenant Denis.
The money was to help Denis pay for his moving costs after his landlords, who had always offered him low rental rates, were no longer able to do so. Jamie also put out the call to landlords and property managers to help find Denis a new rental.
"Denis didn't have anyone to help him so I thought I could lend a hand," Jamie said at the time.
"As a property manager, you do really care about what is happening with your tenants."
5. Get on your bike
Since 2019, dozens of agents have signed up and completed the 500km Digital Live Charity Ride across Thailand, to raise more than $1 million for Hands Across the Water. That charity provides shelter and education to some of Thailand's most vulnerable children.
Led by Steve Carroll, the ride generates life-changing funding for the children and has been known to offer the riders a new perspective on life too.
Even when Covid forced almost everyone into lockdown, Digital Live teamed up with Elite Agent to put on a 30-plus hour continual online real estate training session called the 'Real Estate Zoomathon', which also raised funds for Hands Across the Water.
6. Real estate with purpose
Numerous real estate agencies regularly support charities, with part of their profits going to the causes they support.
Zali Reynolds set up her agency, Shelter Real Estate, with a similar purpose in mind – to support the Global Village Housing program and donate funds to pay for essential resources and labour to build homes for the homeless in Cambodia.
7. And that's not all…
This list really could be endless, but here are just a few more things we know agents do on a regular basis
Take calls at every hour of the day and night to get deals done.
Play with the kids while the parents look at the house.
Support the local sports team and school.
Clean up before an open house.
Work 14-hour days to find that one-in-a-million buyer.
Deal with the stress of finding homes for people when supply is short.
So next time there's a bit of bad press about real estate, we hope this list provides a bit of balance to the equation.