Who doesn't love to see how the other half live? And in 2022 we served up a smorgasbord of celebrity homes to feast your eyes on. But which stories attracted the most attention? Check out our top 10 celebrity homes for 2022 below.
1. Mark Wahlberg's Las Vegas villa
Actor Mark Wahlberg was involved in a lot of property transactions in 2022, including buying land in Las Vegas and relisting his Beverly Park mega mansion.
But it was buying a Las Vegas villa that saw him earn top spot on our most popular celebrity homes article list.
Wahlberg paid $14.5 million for the new two-storey bungalow with four bedrooms, four full bathrooms and two half-baths in 870sq m, plus a 120sq m garage.
Clear Sky Realty agent Alicia Taylor said the actor had been looking to buy in Las Vegas for a while, even viewing Celine Dion's home in the same planned community, known as Summit Club.
"He said he was looking for something with at least five bedrooms because he had four kids," Ms Taylor told Dirt.com.
"The wife was trying to go to Florida, where her family lives, and he was trying to convince her to go to Vegas."
2. Diddy's Toluca Lake mansion
Sean 'Diddy' Combs came in second after selling his San Fernando Valley mansion for a tidy US$6.5 million, which was US$500,000 below its original asking price.
Built in 2006, the home featured six bedrooms and seven bathrooms across nearly 930sq m of two-level living space.
Other features included checkerboard-style marble flooring, an expansive living room and an inground pool and spa.
3. Justin Bieber's Hawaii holiday home
It's not really surprising that this celeb home was one of our most clicked. I mean, what's not to love about the 'Biebs', Hawaii and an epic mansion perfectly suited to partying?
But, alas, the singer doesn't own it. He just rented it for his entourage in 2016, before it hit the market last year for US$9.95 million. It ended up selling for US$6.6 million.
One of the most photographed homes in Hawaii, features included a sports stadium with seating for 450 people, a nine-hole golf course, pristine ocean views, an aquatic centre and even a two-storey waterslide.
4. Brad Pitt's historic Carmel estate
Brangelina might be no more but that hasn't stopped Brad Pitt buying up a sprawling mansion or two.
Mid-2022 saw the Moneyball actor splash US$40 million on the century-old Californian estate, setting an area record in the process.
Pitt purchased the property in an off-market transaction, from Chicago-based options trader Joe Ritchie and his wife Sharon, who had acquired the property from the son of D L James in 1988 for US$4.5 million, before undertaking substantial upgrades.
The exact details of the 2.5-acre property remain vague, however, it's believed the house measures about 280sq m, though it appears larger from some angles.
5. Jeff Bezos' parents' Florida compound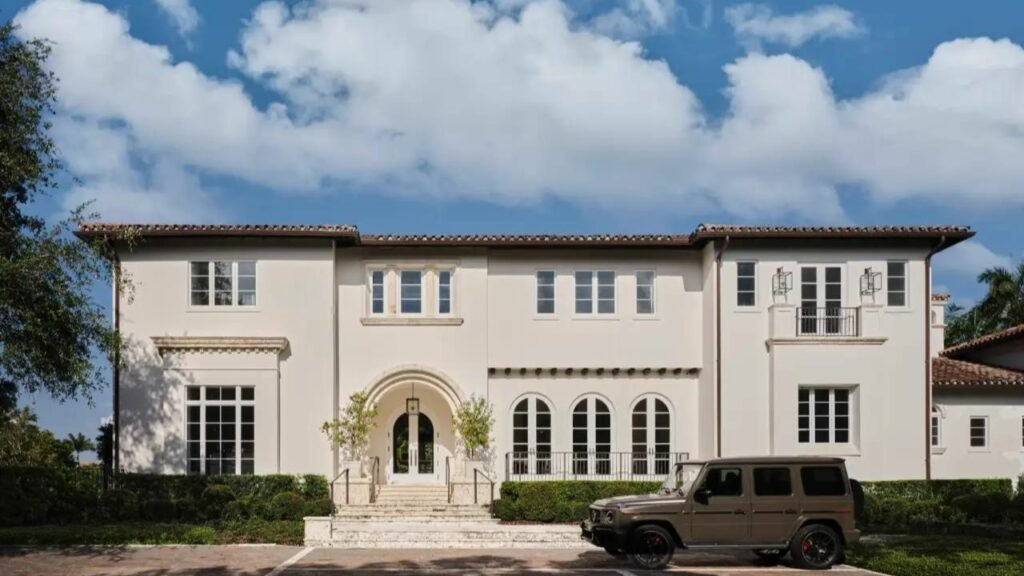 Someone's parents buying a home might not seem that exciting, but Jeff Bezos is the Amazon boss. Oh, and his folks, Miguel and Jacklyn, are believed to have shelled out US$74 million for side-by-side mansions in Florida's Coral Gabels.
They paid US$34 million for one house, which spanned more than 1200sq m, with six bedrooms, seven bathrooms and features including contemporary interiors, a sleek kitchen, walls of glass and an enormous foyer, a saltwater swimming pool and extensive patios serviced by a full outdoor kitchen.
6. The Californian treehouse
Ok, so a tree isn't exactly a celebrity, but when an entire house is designed around it, it certainly takes on celebrity status.
That's exactly what happened when a Pismo Beach, California, property hit the market for US$3.8 million with a giant oak tree winding it's way through the one-bedroom abode.
The branches of the massive tree emerged from the floor of the home and wound their way through the central living and dining room.
Snaking their way around the walls and the staircase to the upper floor, the tree created a natural sculpture in the rustic home.
On the second floor, a single branch of the tree protruded through the floor and was topped with a slab of timber to create a seat in what would be a bedroom.
7. Britney Spears' Thousand Oaks mansion
Back in June 2022, we took a peek inside the US$7.5 million Thousand Oaks mansion the pop princess bought in 2015.
Designed by architect Ronald Firestone and built in 2000, the home features marble floors, limestone fireplaces, an infinity pool with separate spa and poolside pavilion with its own kitchen, and a climate-controlled wine cellar with space for 3500 bottles.
The home also boasts five ensuite bedrooms, living and dining rooms, a gourmet kitchen and an oak-panelled library.
8. Ryan Serhant lists the world's tallest penthouse
It might not be owned by a celebrity but the world's tallest penthouse, located in New York, is certainly being sold by one.
Ryan Serhant has one of the most followed brands in real estate and is the star of Million Dollar Listing New York.
He listed the $250 million penthouse at Central Park Tower in September 2022, with the tallest residential property in the world soaring 431m above street level.
Needless to say, it has sprawling views across New York City, 23 rooms, seven bedrooms and 9.5 bathrooms.
The penthouse is still on the market.
9. Conan O'Brien's Santa Barbara beach house
Funnyman Conan O'Brien took his Santa Barbara beach house to market with the hefty price tag of US$16.5 million after paying just US$7.9 million for it in 2015.
Built in the late 1950s and sitting on 0.41-acres, the oceanside property offered sweeping coastline views and 15m of beach frontage.
The property comprised the two-bedroom, one-bathroom main house with 92sq m lof living space on the top level and a playroom/gym on the lower level, while the the 106sq m guesthouse boasted an upstairs penthouse-style setup with a living room, kitchenette, full bathroom and bedroom.
There was a second bedroom and bathroom on the lower level.
10. Miley Cyrus' Nashville ranch
Singer, songwriter and actress Miley Cyrus offloaded her Nashville Ranch for a massive profit in 2022, netting a cool US$8.7 million.
The Wrecking Ball singer sold the 33.5 acre estate for US$14.5 million having paid just US$5.8 million in 2017.
The farmhouse-style main residence included 650sq m of living space, plus a smaller, detached, barn-style building that would make a perfect recording studio, guesthouse or party pavilion.
In addition to five bedrooms, four full bathrooms and two powder rooms, the ranch offered a covered porch, reclaimed wood flooring, a kitchen with premium Wolf and Sub-Zero appliances, a rooftop deck, and a main floor master suite with a fireplace and soaking tub.
Cyrus has been busy selling down her property portfolio. In 2021 she offloaded her Architectural Digest-featured Hidden Hills home for US$7.2 million, and in 2020 she sold a secluded Malibu home to songwriter Matthew Wilder.
However, she still owns a US$4 million home in the leafy foothills of Studio City.