Brutalist design elements, Murano glass chandeliers and cold plunge pools are set to transform homes and dominate social media feeds in 2024.
Zillow has unveiled its data-driven predictions for home design and styling in the new year, after analysing almost 300 features and design styles mentioned in for-sale listing descriptions.
The property portal then identified the keywords showing up far more frequently than they did a year ago.
Zillow also included expert analysis along with changes in listing keyword frequency to identify the six home trends poised to make waves in the new year, and three trends heading out of style.
"When certain keywords appear in a rising share of listings, it's a signal that today's home buyers may be gravitating toward those features," Zillow's home trends expert Amanda Pendleton said.
"Real estate agents are uniquely attuned to subtle changes in what buyers want, and they often get a first look at the latest and greatest features going into newly built homes.
"Savvy listing agents will highlight those trending, in-demand features when marketing a home for sale."
The only question is, how many will also take off in Australia?
Trends to watch in 2024
Brutalism
Characterised by raw, exposed materials, this mid-20th-century design style is primed to continue its comeback in 2024.
Zillow has seen a 452 per cent increase in the share of for-sale listings mentioning brutalist design. 
Brutalist-inspired features, such as blackened steel casement windows, raw concrete floors and jagged patinated bronze light fixtures, read as modern, functional and sustainable.
This style's stripped-back interiors act as a blank canvas, making them appealing to minimalists or to creative homeowners who want to furnish them according to their personal style.
Those who aren't quite ready to embrace this stark style can bring in accessories such as wrought iron candleholders and tarnished brass trays to give their home a subtle edge.
Sensory gardens or pathways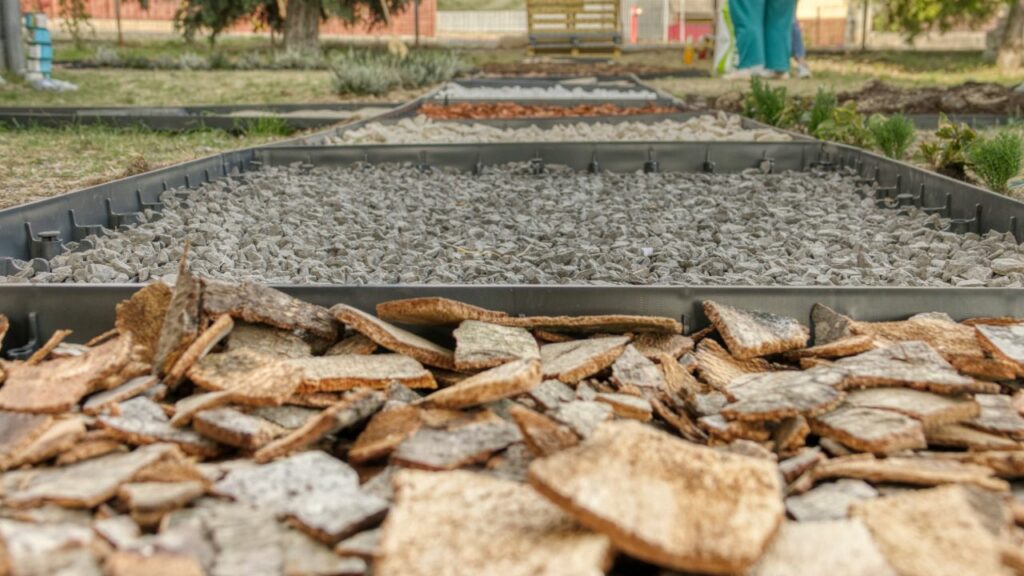 Sensory gardens have been surging in popularity on Zillow, with vendors and prioritising functional and beautiful outdoor space as a way to reconnect with nature.
Listings mentioning sensory gardens or pathways are up 314 per cent compared to last year.
Sensory gardens are designed to engage all five senses and are believed to have therapeutic benefits.
They incorporate a variety of plants, textures, colours, scents, sounds and edible elements, such as herbs or produce.
Cold plunge pools 
Move over, hot tubs. Cold plunge pools are the hottest wellness trend of 2024, touted by influencers as a way to improve circulation and reduce inflammation. 
Top Australian real estate coach Claudio Encina is also a huge fan of plunge pools and ice baths.
The share of listings on Zillow that feature an at-home cold plunge pool is up 130 per cent compared to last year.
Once an invigorating amenity reserved for spas and luxury listings, DIY-friendly cold plunge tubs are making this wellness practice accessible to almost anyone looking for a quick endorphin boost and adrenaline rush.
Pickleball courts
Game on! This fast-paced paddle sport is becoming a sought-after amenity in backyards and neighbourhoods in the US.
But we're not so sure they'll take off in Oz.
In New York City, Zillow brand StreetEasy has seen a 100 per cent increase in the share of for-sale listings highlighting a home's proximity to public or private pickleball courts. 
Nationwide, pickleball mentions are up 64 per cent on Zillow compared to last year. 
"Pickleball courts have become a great selling feature because they appeal to athletes of all ages," Joy Kim Metalios, a Zillow Premier Agent partner in Fairfield County, Connecticut, said.
"I've seen homeowners converting their driveways into courts by using portable nets.
"Players with ultra-luxury homes are painting new pickleball lines on their sport courts or tennis courts.
"Since pickleball is such a social sport, an at-home court has become the latest entertaining feature, like an outdoor kitchen or a pizza oven."
Murano glass chandeliers
Classic Murano glass chandeliers are the ultimate bespoke light fixture.
These handcrafted pieces of art from the island of Murano in Italy are reemerging as a designer favourite, channelling the glamour of decades past.
These intricate, quirky and often colourful fixtures are now being featured 58 per cent more often in listings on Zillow.
Murals
Homeowners and home buyers are saying goodbye to bland in favour of personality-packed homes. 
Eclectic, maximalist interiors are increasingly featuring statement-making murals that dial up the drama in a living room, dining room or bedroom.
Murals are showing up 18 per cent more often in for-sale homes on Zillow, and they're more accessible than ever.
Wallpaper murals are now readily available and depict all types of scenes, from large-scale landscapes to modern botanicals.
Trends heading out in 2024
Shou sugi ban
Shou sugi ban is a traditional Japanese wood preservation technique that involves charring the wood's surface to create a blackened, weathered finish.
This type of burnt-wood cladding became a mainstay of modern farmhouse design, creating a visually striking contrast against white shiplap siding.
But like shiplap, barn doors and other farmhouse fads, shou sugi ban planks may be heading out to pasture, too.
There are 69 per cent fewer for-sale listings featuring this design element on Zillow compared to last year.
The 'cloffice' 
The pandemic sparked many trends — some lasting (more athleisure, please!) and others short-lived (bye-bye, bread baking).
The 'cloffice' appears to be among the latter. 
This office space created out of a closet was a trend that grew out of necessity as remote workers living in tight quarters became desperate for a quiet place to take Zoom meetings.
While some talented do-it-yourselfers were able to create beautiful, well-designed workspaces, others discovered that spending their workday in a closet was less than inspiring.
Combined with the return-to-office movement, the cloffice is now appearing in 54 per cent fewer Zillow listings.
Zoom rooms are also down, by 41 per cent, and office sheds are highlighted 31 per cent less frequently in listing descriptions.
Tuscan kitchen 
Wanderlust and pop culture sensations sparked a wave of destination design during the pandemic.
Spaces inspired by past or aspirational travels began trending as homeowners were hunkered down at home.
Now that homeowners can set off on global adventures again, they may no longer be seeking Mediterranean villa vibes at home.
Mentions of Tuscan kitchens are down 45 per cent from a year ago, while all things Parisian are down 26 per cent.