Happy clients, excellent results and self-betterment are high on every real estate agent's agenda.
And while winning awards may not be the top priority, they are appreciated nonetheless as apt recognition of long hours in the office and team dedication to a common cause.
The 2021 Annual REA Excellence Awards were held at venues around the country Thursday night and we followed up with a handful of the winners to find out what the award means to them and where they're headed next.
Top Residential Agent NSW – Josh Tesolin, Ray White Quakers Hill
Taking out an Annual REA Excellence Award has put Josh Tesolin just one win away from achieving his goal of winning a trio of real estate accolades in 2022.
The Ray White Quakers Hill principal won the AREA for Top Residential Agent for New South Wales on 24 March.
"I had a goal at the start of this year," Mr Tesolin said.
"I wanted to win number 1 for RateMyAgent and I did that, I wanted to win the REA Group AREA and I've done that too.
"So now I just have the Ray White one, which is coming up in about three months.
"If I win all three, I'll be happy."
Mr Tesolin said he had a standout year in 2021 with 350 sales at an average price of $950,000, along with 250 reviews on realestate.com.au.
He said the other finalists in the running for the AREA were high calibre and he was honoured to represent his counterparts in Western Sydney.
He also praised his team for their tireless work ethic.
Winning the AREA would help continue to build the brand's standing in the eyes of customers, Mr Tesolin said.
"Realestate.com.au gives us a lot of exposure on our personal profile and it gets a lot of eyeballs," he said.
Mr Tesolin attributed his success "to something we all have".
"You just have to have drive and energy," he said.
"I'm lucky I've got a lot of support from my family, my fiancee, and I've got great assistance and great admin in the office.
"Being young, I'm only 26, I don't have kids or a family yet, so I can dedicate my whole life to selling properties.
"That's literally what I do. I work seven days, I bought a house in the suburb I work in so I could work more and travel time could be less, and I work 16 hours a day.
"It's what I love."
And if all that isn't enough, Mr Tesolin says he wants 2022 to be bigger and better.
"I hope I can do 365 sales this year, a sale a day," he said.
Top Residential Agent SA – Kate Smith, Harcourts Smith
A South Australian agent with devout faith in the auction process has taken out an Annual REA Excellence Award in her state.
Harcourts Smith Director Kate Smith was named Top Residential Agent for South Australia after selling 230 properties last year and generating many positive reviews on the realestate.com.au platform.
"It's not why we do it, but to be recognised at a state and national level is always nice," she said.
Ms Smith said she had always been a volume agent and traditionally sold between 150 to 180 properties a year but last year saw that increase dramatically. She's on track to do more in 2022.
She said the market in Adelaide, as it had across much of Australia, soared in 2021.
"On average we've had about 28 per cent (price growth) increase across all suburbs in the Adelaide market," Ms Smith said.
"Typically the Adelaide market has been slow and steady, so that type of growth is something, in my 20-year career, I've never seen."
Ms Smith said her average days on market sat at 25 in 2021 and while she may have been able to sell some properties faster, she believes auctions generated the best outcome for her clients.
"I've always been a very big advocate for the auction process," she explained.
"In the past 12 months there were properties that probably could have sold after the first open, but I'm just such a strong believer in getting the best results and seeing the process through.
"And we're getting exceptional results."
Ms Smith said she now firmly had her sights set on bettering last year's numbers.
"I'm obsessed with bettering myself, so if I listed 285 last year, I want to do 100 more the year after that," she said.
"I set my own benchmarks and push myself to go to the next level."
Top Commercial Sales Agent NSW – Robert Dowdy, CBRE Western Sydney
For CBRE Western Sydney agent Robert Dowdy, winning the title of Top Commercial Sales Agent for New South Wales was a humbling experience.
He noted this was his first REA award and he was honoured to receive it.
"I know a few agents who have won it over the years and they tend to be really good operators, so to be amongst them was humbling," Mr Dowdy said.
Mr Dowdy also conceded he was thrilled just to make it to the list of finalists, but was delighted his hard work and strategic approach during a challenging year for the NSW commercial property market had paid off.
Mr Dowdy explained most of the properties he sold last year were via auction, with online auctions proving invaluable during a year of on again, off again lockdowns.
Among his standout results in 2021 was the sale of the Centrelink building at Auburn, which had a reserve price of $8.5 million, but sold under the hammer for just over $13 million.
Mr Dowdy explained that reflected a trend where investors were seeking blue chip tenants.
As for the secrets to his success, Mr Dowdy said his focus was realistic pricing and honest feedback.
And while the award might be an individual one, he also said it was the result of a team effort from unsung heroes including the CBRE marketing department.
Top Commercial Leasing Agent Vic – Tino Parisi, Compton Green
This year marked the second time Compton Green's Tino Parisi picked up an Annual REA Excellence Award as Top Commercial Leasing Agent for Victoria.
But despite the previous win, he noted he was honoured to even be nominated.
"To win for a second time means a lot," he said.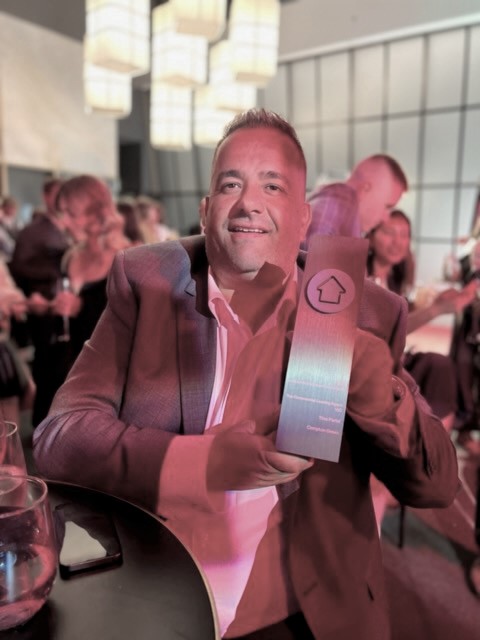 "It's recognition of the 12-14 hours I put in each day and the fact I go out of my way for each and every landlord."
Describing his landlords as not just clients, but lifelong friends, Mr Parisi explained the key to his success was local area knowledge, having stock on hand, and also knowing 'how to second-sell'.
"If a potential tenant comes through a property and it's not for them, I'll ask why and show them another that might suit their needs," he said.
To accomplish this, Mr Parisi even has keys on hand so he can instantly show a potential tenant through another property.
Due to continuous lockdowns, last year was a tough one in Victoria, but Mr Parisi said his results had improved by 30 per cent on the year prior.
"It goes to show if you have the properties, and if people trust in you, you can still achieve good results."
Mr Parisi also noted he had a firm belief that money should never come before honesty, and as a result of this ethos, he has grown his rent roll consistently over recent years.
"When I bought into the rent roll eight years ago, we had 90 properties," he said.
"Now we have 400 private landlords on our books along with 200 government clients."
"Just to achieve that is a reward in itself."
For a full list of winners see below or visit theareas.com.au:
Residential Agency of the Year
DiJONES
Commercial Agency of the Year
JLL
Property Manager of the Year
Ryan Mitchell, Raine & Horne Kurri Kurri
Most Influential Woman in the Property Market
Leanne Pilkington
Game Changer of the Year
Knight Frank Perth: WorkZone Team
Marketer of the Year
Giverny Reid, Crown Group
Integrated Brand Campaign of the Year
Bowens
Jeep – Work Far From Home
Wellbeing Initiative of the Year
Key 2 Sale Real Estate
Contribution to Community
Milieu Property
Top Residential Agents
Victoria
Michelle Stephens, OBrien Real Estate – Carrum Downs
NSW
Josh Tesolin, Ray White Quakers Hill – The Tesolin Group
QLD
Tony O'Doherty, Belle Property – Bulimba
SA
Kate Smith, Harcourts Smith – Semaphore
WA
Vivien Yap, Ray White – Dalkeith | Claremont
ACT
Brett Hayman, Hayman Partners – Canberra
TAS
Abi Freeman, Knight Frank – Tasmania
NT
Daniel Harris, Real Estate Central Projects – Darwin
Top Commercial Agent
Victoria
George Takis, Teska Carson
NSW
Robert Dowdy, CBRE Western Sydney
QLD
Manoli Nicolas, LJ Hooker Commercial, Brisbane
SA
James Juers, McGees Property, Adelaide
WA
Leo Rizzo, Ayers Real Estate, Wangara
Top Commercial Leasing Agent
VIC
Tino Parisi, Compton Green
NSW
Colmon Su, Colman Property Group, Canterbury
QLD
Brendon Ross, Pro Commercial, West Burleigh
SA
Saxon Smith, McGees Property, Adelaide
WA
Adam Smith, Altegra Property Group, Perth
Top Commercial Sales & Leasing Agent
ACT
David Grimmond, Civium Property Group, Phillip
NT
Sam Moore, North Commercial NT, Stuart Park
TAS
George Burbury, Knight Frank, Hobart
Land Campaign of the Year
Victoria and Tasmania
Mt Pleasant, KR Peters
NSW and ACT finalists
Ardennes, Allam Homes
QLD and NT
The Surrounds, Villawood
SA
Tonsley Village, Peet
WA
Harrisdale Green, Cedar Woods Properties
Builder Campaign of the Year
Victoria and Tasmania
Mimosa Homes
NSW and ACT
Metricon Homes
QLD & NT
Metricon Homes
SA
Hickinbotham Homes
WA
Dale Alcock Homes
Apartment Campaign of the Year
Victoria and Tasmania
Glenarm Square – Glen Iris, Deal Corporation
NSW & ACT
Rhodes Central Stage 3, Billbergia
QLD & NT
Ocean, Meriton Property Services
SA
The Adelphi, Adelphi Apartments / Carat
WA
Civic Heart, Finbar Group