Flying taxis, colour-changing BMWs and sensational technology that immerses you in the metaverse… It was all on show at CES 2022, and as Cass Charlesworth writes, some of it has applications for real estate.
If there's one annual event that offers a window into the future, it's the Consumer Electronics Show in Las Vegas.
Packed full of innovative gadgets, game-changing tech and all the latest bright, shiny objects, it's an expo that attracts the who's who of the tech sphere to showcase their latest developments.
CES 2022 didn't disappoint, offering up everything from new applications for artificial intelligence, to flying taxis, a whole host of health tech and some pretty interesting ways to explore the metaverse.
Here's a small snapshot of what was on show at CES 2022, and how it might apply to real estate.
AI humans can host your video
We all know the power of video, but there's expense associated with ensuring a professional production.
That's where artificial intelligence is about to step in, and this could seriously be a game-changer for those who are camera shy.
AI Studios by DeepBrain AI is an award-winning video production tool that makes it easy to produce videos without the need to film or even employ real people.
Rather than set up a studio with lights, cameras and crew, simply type the script, and AI Humans will speak naturally while using body language and gestures just like real presenters.
The team behind AI Studios also have a further offering that creates virtual avatars of real humans, so in the future it's feasible that you could make a likeness of yourself and have your avatar present videos on your behalf.
Keep your video in focus
While we're talking video content, the Pivo Pod Pro X is a neat little tool that makes creating professional looking videos a whole lot easier.
Basically, it's a smart phone stand that uses AI to track the movements of the video host and then swivels on its base to follow them. It can also automatically zoom in and out while keeping the host in focus.
The pod connects with apps that offer a series of different modes including video call, tracking mode, virtual presentation and a tour mode that captures 360-degree videos of a location.
Lifesaving jewels
There's already a swathe of wearable tech out there, but what about a nice bit of bling that could literally save your life?
MyEli is a chic looking connected jewel that allows the wearer to alert emergency contacts should they feel in danger.
It works by connecting to your smartphone via Bluetooth and its application is customisable so you can trigger multiple actions to occur in an emergency.
MyEli picked up an honoree innovation award at CES 2022 and it's easy to understand why. It could make an ideal gift for the property manager, agent or any family member concerned about their personal safety.
An anti-snoring pillow
Speaking of health and safety tech, there's now a pillow complete with airbags that addresses that age old issue of snoring.
The Motion Pillow 3 senses the user's head position and if it detects the sound of snoring, it gently inflates airbags inside the pillow to the sleeper's head position without disturbing their sleep.
Feel the sensation of the metaverse
The metaverse might be a virtual world but that doesn't mean exploring it has to be devoid of sensation.
Pebble Feel by Shiftall is a harness you can wear that changes temperature, allowing you to explore an area of the metaverse and actually feel hot or cold in response to your surrounds.
And it wasn't the only gadget bringing the sensation of the metaverse into the real world. Spanish startup Owo also unveiled a jacket that allows the wearer to feel punches, hugs, and even the sensation of a breeze when exploring the parallel universe of the virtual world.
So, for all those agents keen to get in on the real estate sales opportunity of the virtual world, now you can sell it like Serhant in the metaverse and become totally immersed in your surrounds.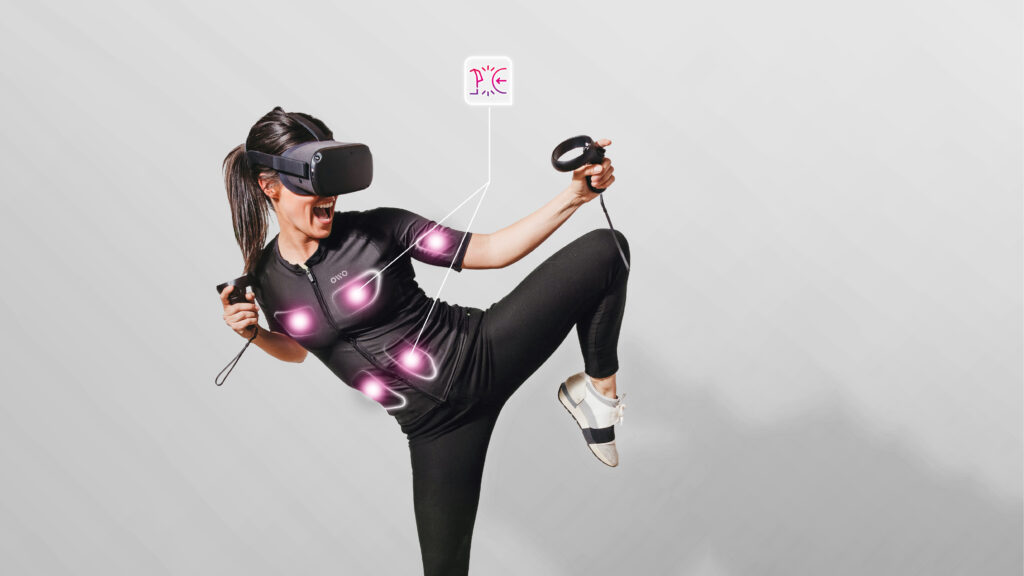 Invisible headphones
Sick of losing your earbuds? Noveto N1 is a device that looks a lot like a soundbar but delivers audio directly to an individual user by ultrasound, with no headphones required.
The company behind it promises others in the room will only hear a 'whisper of sound' and should you turn your head or change position, motion sensors allow for facial recognition, helping the N1 to track your ears and ensure the sound hits the right spot.
A colour-changing BMW
Why spend ages at the dealership deciding on the colour of your new Beemer, when you can opt for one that changes shade at the push of a button?
That's right, BMW is looking at giving its vehicle owners the opportunity to colour co-ordinate their car with their outfit, or perhaps their mood, courtesy of E Ink panels.
As a bit of an explainer, E Ink is the same technology you'll find on your Kindle e-reader, and at CES 2022, BMW demonstrated how that could be put to use on the exterior panels of a car.
So far, they've showcased the BMW iX Flow changing from white to black and back again, but the car co says in the future there will be lots more colours available along with the ability to display images and text.
Yes, you read that right and we can hear the minds of your marketing department ticking…If this makes it to production, you could have a car where you can easily display logos, branding and messages, and change them whenever you want to.
Air taxi, anyone?
A Beemer might be a stylish way to get around, but who has time for traffic on a Saturday morning when you're travelling from one open home to another?
SkyDrive air taxi might just be the solution you're after. Looking a whole lot like an oversized drone, SkyDrive is an electric compact vehicle that's capable of carrying a human.
Of course they're not the first company to come up with a concept of flying taxis, but they might just be the closest to making what's currently a concept a reality.
So far, SkyDrive has achieved flight certification from Japan's Transportation Ministry, and has undertaken test flights, but is still years away from day-to-day use.
The Japanese company behind it hopes to deploy it as an air taxi in Osaka during World Expo 2025.
That means come 2026, you might just be able to alight from a drone at a Saturday morning auction as the admiring crowd reacts in awe to the fact the agent has landed!