Renters in the Sydney suburb of Clovelly are now paying $633 more a week to rent a house in the highly-sought eastern beach-side suburb.
New data from PropTrack has unveiled the top 10 Sydney suburbs for growth in weekly house and unit rents, with Clovelly topping the list.
In the past year, the cost to rent a house in the suburb has risen $633 per week to a median of $1995.
This is closely followed by Rose Bay, where renters are now paying an extra $600 per week, with the median house rent now sitting at $2000 per week, while in Middle Cove tenants are coughing up an additional $525 per week with the median house rent in that suburb hitting $1700.
Unit rents have also jumped substantially with Sydneysiders in Caringbah South seeing the biggest hike, with the median unit rent rising $230 per week to $980.
The year-on-year increases come as rental supply has contracted and demand has intensified.
PropTrack economist Angus Moore told The Daily Telegraph the rental shortage were a result of years of housing construction backlog and Covid-related trends that saw rental numbers drop.
"During the early pandemic in 2020 many investors sold their properties and very few were buying," he said.
"That's left us with fewer rental properties.
"What happened next was that rental households got smaller. Share houses broke up.
"Instead of one four-person share house, we had three more people wanting units.
"That caused the market to start getting really tight in 2022. Since then, borders reopened and with more migrants has come more demand."
CoreLogic unit figures
CoreLogic has also released new data showing further evidence that rents in Australia's unit market have surged, with the national trend recording its highest annual growth on record at 13.7 per cent.
The pace of monthly rental growth continues to accelerate, from a 1 per cent increase in January to a 1.2 per cent rise in February, with the surge in unit rents seen since the onset of Covid being described as "unusual".
CoreLogic Economist Kaytlin Ezzy said the surge in unit rents seen since the onset of Covid was "unusual".
"In the decade prior to 2020, annual growth in unit rents averaged just 2.3 per cent nationally," she said.
"However, in just under three years, unit rents have risen almost 20 per cent, equivalent to an additional $87 per week, or roughly $4500 per year."
The tightening of vacancy rates also continued in February, with the national unit vacancy rate dropping to a new record low of 0.88 per cent in February, reversing the loosening seen in January.
All capital and rest-of-state regions saw vacancy rates tighten, with Sydney (0.96 per cent), Melbourne (0.62 per cent), Adelaide (0.24 per cent) and Perth (0.65 per cent) all recording new record low vacancy rates in February.
Sydney and Melbourne recorded the strongest unit rental growth over the month, rising 1.6 per cent and 1.4 per ent, respectively, with overseas migration fueling rental demand for inner-city apartments.
Hobart and Perth also saw unit rents rise 1.4 per cent over the month, while Brisbane (1 per cent), Adelaide (0.8 per cent), Darwin (0.7 per cent), and Canberra (0.3 per cent) also recorded monthly rental value growth.
"Despite the prospect for strong rental growth, we'll unlikely see much in the way of a supply increase over the short term," Ms Ezzy said.
"While capital city unit rents have increased 12.3 per cent or approximately $256 per month since April 2022, investor mortgage repayments on a typical capital city unit have increased by roughly $826 per month*."
National gross rental yields for units rose a further five basis points in February to 4.52 per cent, taking gross yields 86 basis points above the record lows recorded in December 2021 (3.66 per cent).
CoreLogic's national unit index remained flat in February, putting the brakes on the decline seen in December and January.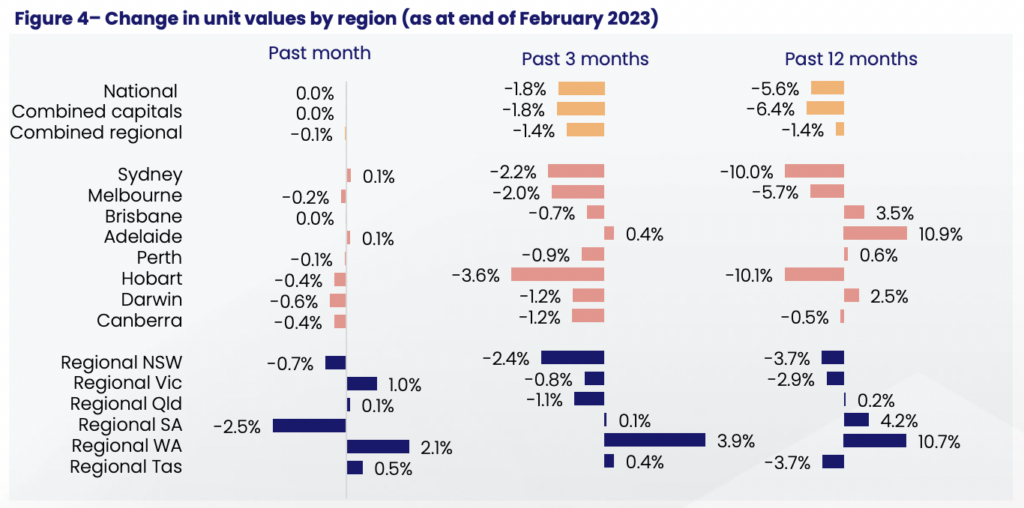 Unit values rose slightly in Sydney and Adelaide (up 0.1 per cent) while the decline across other capitals moderated.
Brisbane's unit values remained flat over the month, and Perth's values fell 0.1 per cent.
At the other end of the scale, Darwin recorded the largest monthly decline in unit values with a drop of 0.6 per cent, accelerating from the 0.5 per cent decline seen the previous month, while the monthly rate of decline in Canberra unit values held steady at 0.4 per cent.
Hobart unit values fell by the same amount, while Melbourne unit values dropped 0.2 per cent.
"A more moderate upswing, coupled with the 6.2 per cent decline seen since the April 2022 peak has seen Melbourne unit values return to the levels recorded in March 2020," Ms Ezzy said.
"Melbourne's low-density segment recorded a similar fall, down 0.2 per cent, making Melbourne the only capital city region to lose all of the capital gains accumulated over the COVID period."