Ladies and gentlemen, in the future, when you get home from work, who would you rather have cook your dinner… your partner, or a robot programmed by Jamie Oliver? This was one of the opening questions from Steve Carroll in his keynote at this year's Momentum events across Australia. Elite Agent's Samantha McLean took notes and has unpacked some of the topics raised during the events.
Jarvis is a virtual assistant Steve Carroll from realestate.com.au has brought along with him for the presentation today. Robots are a super-efficient way of performing repetitive and mundane tasks such as managing your diary, talking to you about traffic and more. In other industries we already have robots stacking shelves, doing aerobics, and possibly even taking over the cooking at night. But this is no reason to think that your job is finished, because of the human factor.
"You know what's great about the human factor? The human factor enables us to do three things that technology and Jarvis will never do in 100 years. And there are three things that buyers and sellers want from real estate agents in 2017 in abundance: the ability to respond really quickly, the ability to build interpersonal relationships and the ability to adapt to changing situations in a world that's just moving at 100 kilometres an hour. "It's the human factor. If we master the human factor, we are in such a powerful position. When you combine the very best of the human factor with the very best of technology, you are in such a powerful position to dominate as a real estate agent in 2017."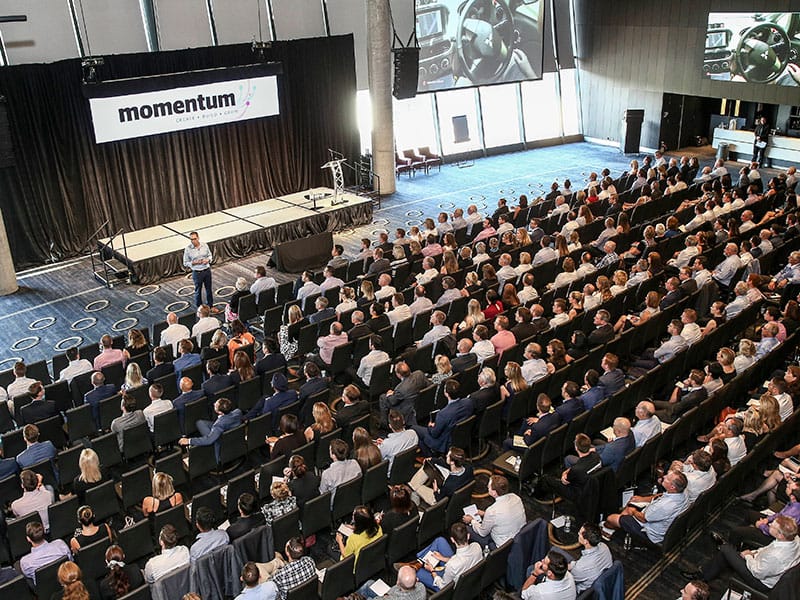 GOOGLE AND THE DRIVERLESS CAR
Carroll acknowledges that last year he talked a lot about driverless vehicles and how much progress has been made in the space, including testing driverless buses in Perth and Darwin. "The experts think that driverless vehicles will be part and parcel of our lives in Sydney in the next couple of years," says Carroll."One of the companies putting a lot of money into it is Google. Why would a technology company as profitable as Google be interested in the automotive industry?
"From what I can see, Google are obsessed with having your undivided attention in a car when you're travelling from A to B. What's in it for Google? Well, Google have figured out that we spend four and a half years of our lives driving. They've figured out that if they can free up that time, they can send us more advertising and make more money…."
What would you do with four and a half years of your life back? You might spend more time on your mobile device. You would probably have more time to shop. You might educate yourself more.
Thought to ponder: If we (humans, consumers) are going to be more educated on the whole, it is likely that the agent of the future will be way more educated and up to speed on the world around them than is currently the case – so to stay competitive get out there and start learning.
ZERO TOLERANCE FOR WAITING
Using Uber as an example, Carroll says before they were around, "we would wait half an hour for a taxi in the rain." Now it's quite different; if you see that your Uber is three minutes away via the app, then all of a sudden it's five due to traffic then we all start to panic and get angry.
"We've now got zero tolerance to wait for a service. It's the way your buyers, your sellers, your renters are now behaving."
And there are other examples of speed equalling great service, like Domino's app to order a pizza, or facial recognition speeding up passport queues in airports. But the most stark demonstration Carroll gave was to do with Amazon's new service Amazon Go, where you can go shopping, be identified by your phone, and your Amazon account is charged for your purchases all without the checkout queue. What if Amazon Go decided to open up Amazon Property?
Thought to ponder: As the consumer's need for speed is only going to intensify, what can you do to speed up the consumer experience in communication, at open homes and more?
How can you simplify the complicated process that is real estate, and what tools are available or becoming available to assist with this? My personal feeling is a couple of things will happen here, for example push notifications throughout the contractual process; companies such as PEXA and Lawlab are already working on this. Also, who will really create a 'non-invasive' open home app that can send relevant push notifications to the user as they are walking around the property, with things like additional information, history and more?
THE NEED FOR PERSONALISED SERVICE
"We, as consumers, are over being treated like a number," says Carroll. "Look at Spotify, Netflix, Pandora. How personalised, how good are they?" Which leads to the question of how we as agents might personalise the real estate experience for our customers.
Using the example of a trip he recently went on with his family, Carroll described a travel agent in Los Gatos who personified making things easy. After explaining what he and the family wanted to do while in LA, the agent, took care of everything in the time it took to buy a coffee. The impressive bit, Carroll says, was when they got back from the trip; the phone rang and it was the travel agent checking they had a great holiday, and at the same time asking if he had a photo of everyone enjoying themselves for their 'scrapbook of happy customers'. Carroll says he sent her the photo and half an hour later they had a video back of their holiday, which was set to music and shareable on Facebook and other social media. "Three teenaged kids, my wife, myself… between us over 5,000 connections or friends on Facebook, and the message went along the lines of 'This is what we have been up to for the last two days. If you ever go to America, check out Travel Advisors of Los Gatos, because they rock.'
"It was like a digital souvenir, and so timely. If they had sent that after my kids had gone back to school and my wife and I had gone back to work that moment would have been lost."
Thought to ponder: How can you create socially shareable digital souvenirs for your clients? Could it be a series of photos for your buyers made into a video to show their friends where they are moving to? Could you do the same for sellers to share on their Facebook pages to let their friends know they are selling? (Make sure you get them to tag you in the process!)
THE DIGITAL INTERVIEW IS 24/7
The consumer behaviour trackers at realestate.com.au have some news for you. "The amount of hours being spent by sellers checking out agents online has gone through the roof… we're talking tens of thousands of hours per year," says Carroll.
"I have some other news for you: every single one of you today will be digitally interviewed, some of you at least once. Some of you might be digitally interviewed 15 or 20 times between 8.30am and 12pm."
Carroll has one simple piece of advice on the topic: Google yourself. "Just put your name into the browser and see what happens in the context of real estate, and score yourself out of 10. If you want to compare yourself, compare yourself to Gavin Rubinstein, who is a definite 10 out of 10 and completely dominates social media."