House prices will rise between two and seven per cent in the majority of capital city and regional locations in 2023, a leading property analyst has predicted.
Propertyology Head of Research Simon Pressley said contrary to much market commentary, many of the fundamentals that drove 20 per cent growth in 2021 were still present.
"The important missing link is buyer confidence," he said.
"Cash rate increases in eight consecutive months, for a combined total of 300 basis points, during 2022 is the highest increase any of us have ever experienced.
"The frequency of the increases jolted buyer confidence, so the volume of real estate activity was below original expectations."
But Mr Pressley said sometimes people needed reminding that "an interest rate is not a property market" but a "metric of the moment", and despite what mainstream headlines would have people believe, most times things are not as bad as they might first seem.
2022 in review
He said while Sydney prices had dropped seven per cent in 2022 and Melbourne's property prices had fallen five per cent, Australian Bureau of Statistics' (ABS) latest data showed most markets across Australia finished the year between five and 15 per cent up on the start of the year.
Locations that produced double-digit growth this year included Adelaide (SA), Albury (NSW), Armidale (NSW), Bairnsdale (VIC), Burnie (TAS), Bussleton (WA), Cairns (QLD), Dubbo (NSW), Hervey Bay (QLD), Shepparton (VIC), Townsville (QLD) and Wangaratta (VIC).
Mr Pressley said some other parts of Australia had seen mild price falls this year of about two per cent, but that was on the back of growth of 40-plus per cent over the preceding two years.
"It hasn't been kept in proper perspective," he said.
"If a market has lost two or three per cent in value, that's actually nothing in the overall scheme of things.
"Large parts of Australia will end this calendar year with property prices higher than what they started."
Looking ahead
Looking forward to 2023, Mr Pressley said the property market was "likely" to return to "near-normal" performance.
He said the Reserve Bank of Australia (RBA) would generally be comfortable with a cash rate of between 2.5 and 3.5 per cent, and if global supply pressures eased in the first quarter of 2023, this would bode well for the market.
"I think it's likely that interest rates will flatline from Easter through to the end of 2023," Mr Pressley said.
"Either way, the RBA will play a big role in buyer confidence in 2023."
Mr Pressley tipped the weakest property markets would see mild price drops of between two and five per cent, with candidates including Ballarat (VIC), Ballina (NSW), Byron (NSW), Canberra (ACT), Kiama (NSW), Melbourne (VIC), Noosa (QLD), Surf Coast (VIC), Sydney (NSW) and Warragul (VIC).
"Sydney and Melbourne continue to have the weakest property market fundamentals in Australia," he said.
"A majority of capital city and regional locations will produce house price growth of between two and seven per cent in 2023.
"The strongest capital city property markets in 2023 are likely to be Adelaide and Perth.
"As happens every year, there will be locations which outperform the national norm and they'll be away from the concrete jungle, among the 400 regional townships."
Mr Pressley said the locations with the best potential in 2023 are:
Airlie Beach (QLD), Albany (WA), Albury (NSW), Armidale (NSW), Bathurst (NSW), Beaudesert (QLD), Benalla (VIC), Bundaberg (QLD), Burnie (TAS), Busselton (WA), Cairns (QLD), Devonport (TAS), Dubbo (NSW), Echuca (VIC), Esperance (WA), Hervey Bay (QLD), Gold Coast (QLD), Goulburn (NSW), Griffith (NSW), Gympie (QLD), Kempsey (NSW), Lithgow (NSW), Mandurah (WA), Maryborough (QLD), Mount Barker (SA), Mount Gambier (SA), Parkes (NSW), Port Douglas (QLD), Rockhampton (QLD), Shepparton (VIC), Sunshine Coast (QLD), Swan Hill (VIC), Tamworth (NSW), Toowoomba (QLD), Townsville (QLD), Victor Harbor (SA), Wangaratta (VIC), Warwick (QLD), Wodonga (VIC) and Yeppoon (QLD).
The biggest issue
Mr Pressley said the single biggest issue, not just in the property market, but across the country, would continue to be the rental crisis.
"This is not a new problem for Australia," he said.
"This has been a problem for three of four years and everything that any level of government has done over that period of time has actually made it worse."
Mr Pressley also warned that international migration expected to increase at the start of 2023, things would get worse before they had a chance to get better.
"The first quarter of every year is also when the existing Australian population are most mobile," he said.
"So we're going to see lots of numbers about astronomical rent increases and about astronomical numbers of people sleeping in cars."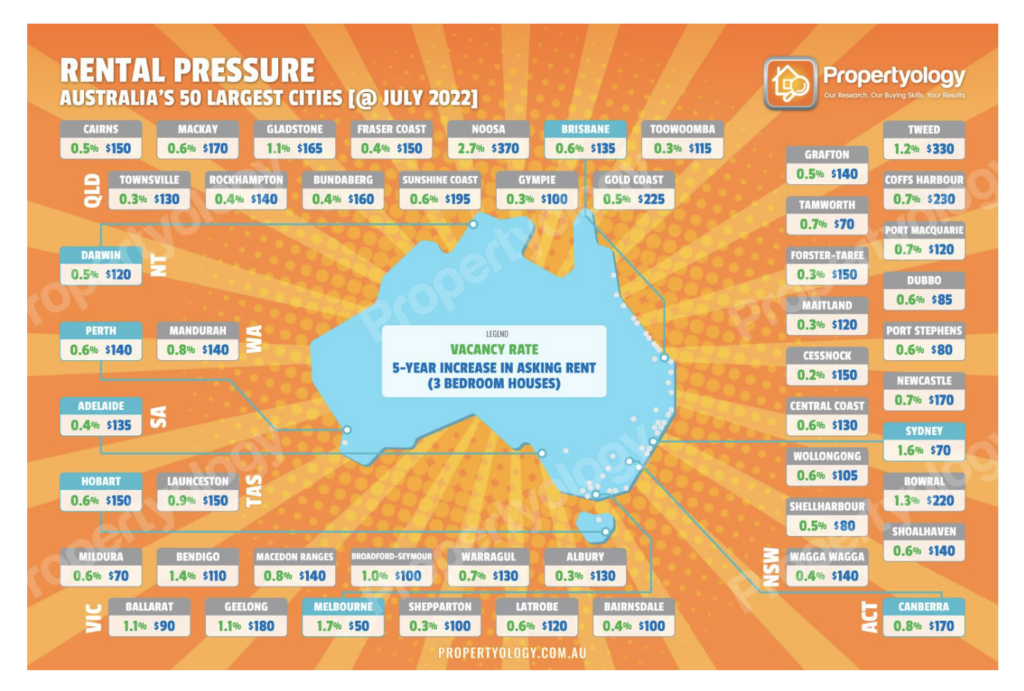 Mr Pressley said Australia had 3.3 million rental properties, with 98 per cent of those coming from private investors, while federal, state and local governments funded just two per cent.
He said the government needed to boost policies that encouraged an increase in rental supply.
"Governments, for example, could reduce stamp duty charges or they could throw some money at the construction sector and say, 'If you sell a new home to an investor, that investor can get a government grant'," Mr Pressley said.
He said another option could be to relax credit policy, noting that APRA'S three per cent buffer was "excessive".
"That's never happened in 230 years of this country's history," Mr Pressley said.
"Now, that doesn't mean they will relax it, but if they did relax it, that would have a positive impact on property markets."
Market fundamentals
Mr Pressley said market conditions in Australia today were "far superior" to the same time three years ago, with the value of a standard house in 130 of Australia's 150 largest townships now 40 per cent or more higher than three years ago.
"According to the RBA, Australian households have $1.455 billion cash at their disposal in facilities like mortgage offset accounts, redraws and term deposits," he said.
"Australian banks confirm one in three mortgage holders are two or more years ahead of scheduled loan repayments, while credit ratings agency S&P confirm only 0.58 per cent of home loans are in arrears.
"In Q4 2019, Australia was teetering on a recession. The unemployment rate was 5.3 percent and wages had flatlined for several years."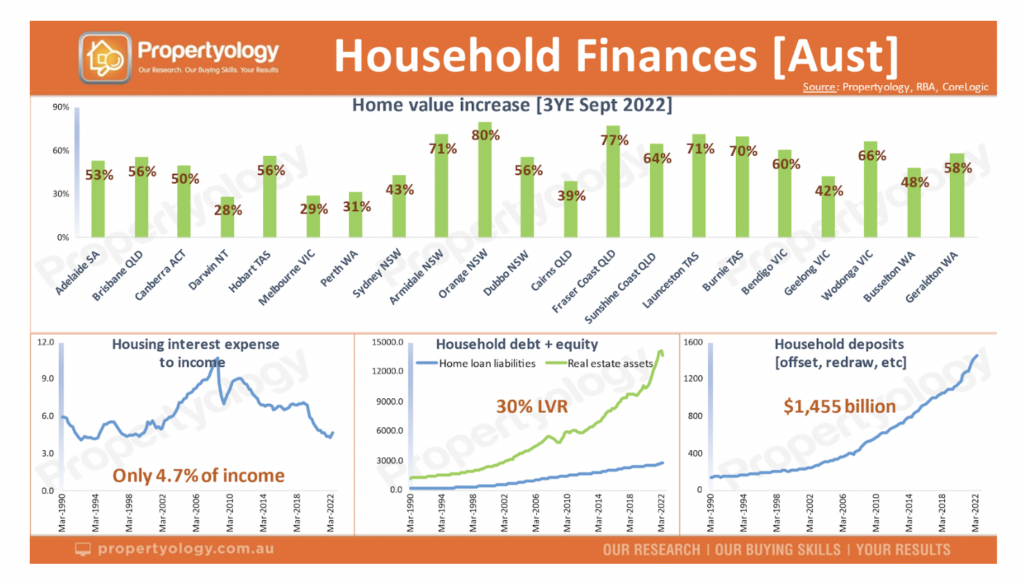 But today, Mr Pressley said there were 683,000 more jobs in Australia compared to three years ago, the unemployment rate of 3.4 per cent was the best since 1974 and there were 500,000 advertised jobs that couldn't be filled, which was pushing wages up.
"This country with 10.9 million residential dwellings currently only has 241,701 listed for sale (just 2.2 per cent of total dwelling stock)," he said.
"The same time three years ago, there were 339,000 listed for sale (3.2 per cent).
"It's a very small pool of housing for buyers to choose from when they rediscover their confidence and decide to get on with life."
Simon says: what to watch in 2023
Monetary policy: on the balance of probabilities, the RBA will keep their powder dry in eight or nine of the 11 Board meetings in 2023. Buyer confidence will increase once the Australian public senses rate rises are behind us.
Credit policy: the current loan assessment rate buffer of three per cent, along with a few other overzealous conditions imposed on property investors, is significantly more conservative than what Australian credit policy has been at any time in living memory. Any future change to credit policy by APRA must be to loosen the grip, particularly in support of suppliers of rental accommodation.
First-home buyer support: recently released Federal Government policies enable eligible lower income earners to purchase a home with just a two or five per cent deposit and no mortgage insurance. The federal and some state governments also offer a 'shared equity scheme', supporting housing demand.
Investor support: Since 2015, the animals have been left to run the zoo, causing the biggest rental crisis in this nation's history. Federal, state or local, which government/s has the guts to do the right thing and ease pressure on rental markets through introducing policies that support rental suppliers?
Stamp duty: potentially the most influential real estate policy in 2023 will be the newly released First Home Buyer Choice in NSW wherein, instead of having to save an extra $40,000 to pay stamp duty on a $1 million Sydney property, a first-home buyer can enter the market by paying a $1900 annual property tax. Time will tell the level of extra buyer activity in NSW along with whether other states follow suit with similar policies.
Other property taxes: beware the State Government budget pressures. As seen with the recent Queensland Government land tax fiasco, real estate has long been a go-to political revenue raiser.
Work-from-home: from one in every 20 jobs in 2016, to one in five jobs in 2021, the work-from-home (WFH) way of life is the single biggest structural change to impact Australian society since World War II. Those who think WFH will be just a short-term fad are seriously delusional.
Lifestyle movement: a higher volume of home renovations with more elaborate creature comforts, a thirst for a stronger connection with natural environments, and greater appreciation for regional living will be prominent for a generation or more.
Construction industry: I anticipate a significant increase in the volume of insolvencies in the construction industry. Insufficient skilled labour will continue to curtail supply of new housing stock.
China: their actions will always be largely unpredictable, but the volume of goods and services that the world's largest country purchases from Australia will continue to influence property economics.
India: just this month, Australia entered into a new trade agreement with the world's second largest country, India, creating potential for a significant economic boost in Australian locations that export agriculture, mining and education.
Blue-moon events: war, natural disasters, cyber-attacks, stock market crashes, health pandemics… there is usually something that comes from left-field each year. But decades of history is proof that Australian real estate is incredibly resilient.