Rental vacancy rates eased slightly across the nation in April, with Darwin the only capital city to see a drop in vacancy rates.
The Northern Territory capital recorded a 0.18 per cent drop in the vacancy rate in April to sit at 1.66 per cent, according to PropTrack.
PropTrack Senior Economist and report author Paul Ryan said national vacancy rates increased 0.12 per cent in April to sit at 1.42 per cent.
But annually, the national vacancy rate figure remains 0.25 per cent down.
Since March 2020 the national vacancy rate has fallen 46 per cent.
"Both capital city and regional areas saw rental markets stabilise marginally in April, rising 0.14ppt and 0.10 respectively," Mr Ryan said.
"Despite this, conditions remain extremely tight for renters, pushing rental prices up over 8.7 per cent over the past year."
Adelaide and Perth have the lowest vacancy rates across the country.
Despite monthly increases of 0.10 per cent and 0.09 per cent respectively, vacant rentals remain below 1 per cent in each city.
"Vacancy rates have grown (annually) in Adelaide (0.12), Hobart (0.88) and Canberra (1.04) to sit above rates seen in April 2022," Mr Ryan said.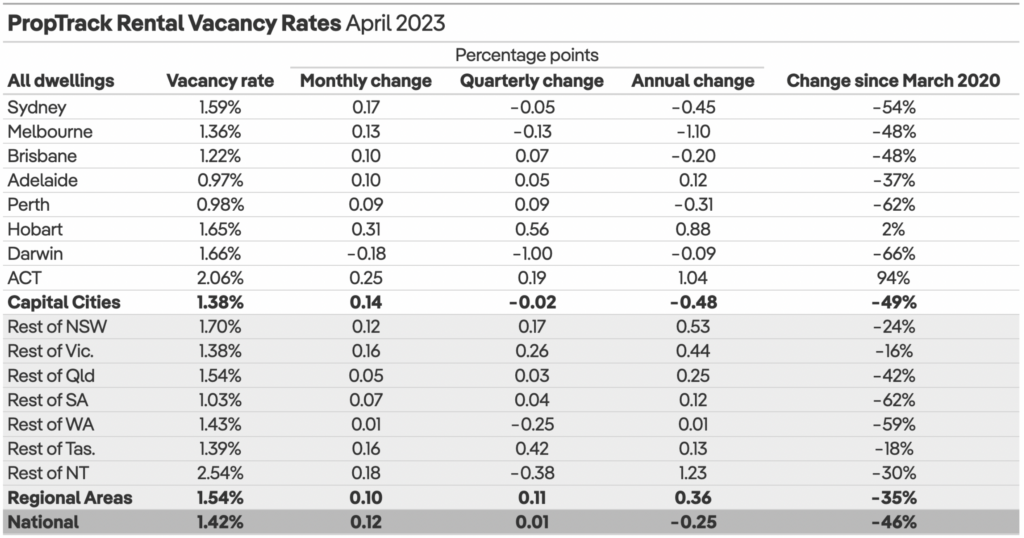 In Sydney and Melbourne, vacancy rates lifted 0.17 per cent and 0.13 per cent respectively in April.
"Despite monthly growth, rental market conditions remain tight, particularly in Sydney and Melbourne where rental vacancy rates are down 0.45 per cent and 1.10 per cent over the past year, respectively," Mr Ryan said.
"Regional areas have continued to see rental conditions ease slightly.
"Regional areas saw rental vacancy rates increase 0.10 per cent over the last month, taking them just 0.25 per cent below April 2022 levels."