Property settlement volumes have trended significantly downward in the most recent financial year, but remain well up on pre-pandemic levels, according to new data from PEXA.
PEXA's Property Insights report  for the 2022-2023 financial year shows 665,000 properties settled over the 12-month period, which was 18.6 per cent lower than the boom financial year of 2021-2022.
But it was still 11 per cent higher than immediately prior to the pandemic in FY20.
The total value of property sales also fell 18.6 per cent from $740.4 billion in FY22 to $603 billion in FY23, but remained well above the $408.8 billion sold in FY20.
PEXA's Head of Research Mike Gill said the FY23 results were driven by a soft first half of the year, with all states recording some shrinkage.
However, settlement numbers recovered from March 2023 onwards and the financial year finished strongly with more than 66,000 property settlements recorded in the month of June – up from 58,000 in May and 48,000 in April – signalling a rebound in settlement volumes.
Mr Gill said while settlement figures in FY23 were lower than the previous year, there was still good reason to be optimistic for the year ahead.
"As the interest rate cycle approached its peak, we saw significantly fewer sale settlements recorded across the 2023 financial year, compared to FY21 and FY22 although they have still remained higher than levels experienced during the onset of the COVID pandemic," he said.
"Despite a soft start to the year, residential sale settlement volumes picked up from March across all mainland states, with June settlement volumes finishing the year strongly – at comparable settlement numbers to the prior boom year.
"This suggests the market has already bottomed out and is beginning to recover as we enter FY24."
Mr Gill said despite higher interest rates, demand for property was strong and settlement volumes were lifting.
"There are a number of factors that will continue driving the property market this year, including increased net migration, the trend toward smaller households, low volumes of new listings as sellers wait for the market to improve, and a very tight rental market," he said.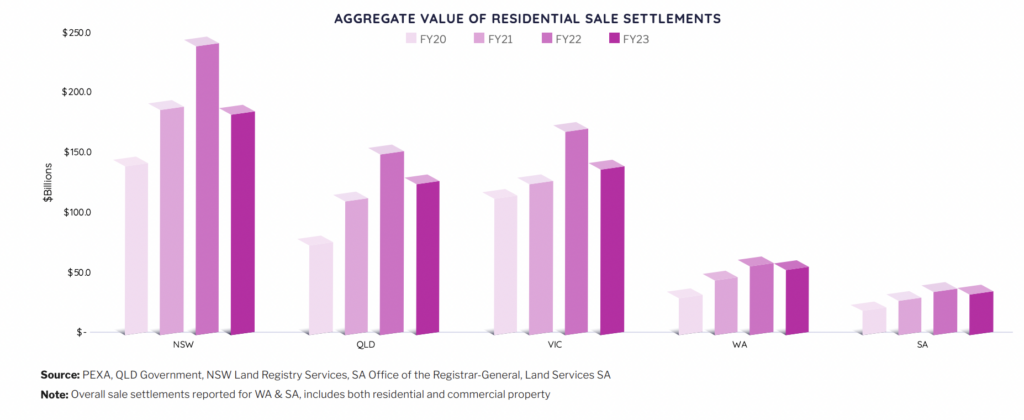 Queensland recorded the most property settlements in the nation for the second year in a row, with 176,000, followed by Victoria with 164,883.
But it was in NSW where the most money was spent on residential property in FY23, with more than $181.4 billion changing hands.
Victoria had the second highest spend on property ($135.7 billion) while Queensland came in third ($123.3 billion).
In the commercial sector, Victoria topped the table with the highest number of sale settlements at 11,231, ahead of Queensland with 10,161 and NSW with 9138.
Commercial sale settlements declined in all three eastern states in FY23 with NSW experiencing the largest drop, down 21 per cent year-on-year.
The Queensland market performed the strongest in FY23 only falling nine per cent..
NSW continued to lead the country for aggregate value, which reflects the higher average transaction values for commercial property in Sydney.
In NSW, $30.8 billion was spent on commercial property during FY23, down 22.3 per cent from the peak year of FY22.