Property prices in flood ravaged East Coast markets could take years to recover according to new analysis.
CoreLogic data revealed today showed that after the 2011 Brisbane floods the real estate market was hit hard, with prices falling as much as 17.9 per cent in the worst affected areas.
The analysis, which throws some light on what the latest floods in South East Queensland and Northern NSW could mean for the property market, also showed it took as long as nine years for prices to recover in some suburbs.
CoreLogic Head of Research, Eliza Owen said it took an average of 3.1 years for Greater Brisbane property prices to rebound after the 2011 floods, at a time when interest rates were also falling.
"Following the Brisbane floods in 2011, the city's dwelling values sustained a decline from January 2011 to January 2012, which bottomed out at -6.1 per cent," Ms Owen said.
"This decline kicked into recovery mode off the back of several cash rate reductions from November 2011.
"However, it was not until March 2014 that the dwelling market fully recovered the value recorded in December 2010."
Ms Owen said that while Greater Brisbane property prices were negatively impacted by the floods, the most-affected areas took even longer to bounce back.
"It took an average of 5.1 years for values to recover to January 2011 levels, with flood-affected areas recording a sharper decline in dwelling values than Greater Brisbane," she said.
Chelmer was the hardest hit area in 2011, with property values falling 17.9 per cent and taking 8.4 years to recover, while in Rocklea property prices dropped 17.4 per cent and took 3.7 years to return to pre flood levels.
Across the areas that were hit the hardest from the 2011 floods, values drew down by as much as -17.9 per cent in Chelmer and -17.4 per cent in Rocklea compared to -6.1 per cent for Greater Brisbane.
The recovery period was also significantly longer in some areas with properties in Indooroopilly taking 9.1 years to regain their pre-flood values.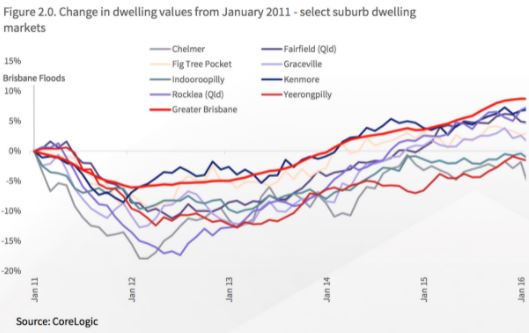 Ms Owen noted another major impact was a sharp fall in transaction volumes following the floods.
"Through January 2011, monthly sales volumes reached their lowest level over the past 20 years, at 2115 transactions across Greater Brisbane," she said.
"New listings added to the market were also notably lower through January 2011 compared to the previous year (down 27.8 per cent), but increased remarkably in the following month (jumping 46.8 per cent)."
Notably, rental prices increased following the 2011 floods.
"Rent values increased an average of 4.3 per cent over the year to January 2012," Ms Owen said.
"This may be due to more subdued rental stock levels available at the time, which could have put upward pressure on advertised rents."
Ms Owen said the major difference between the 2011 floods and today was the length of time between the extreme weather events. Prior to 2011 the next nearest major flooding event in the region was in 1974.
"Flooding of this nature was considered 'a once in a 100-year event'," she said.
Fallout from the current East Coast floods could change the way buyers view locations and their susceptibility to flooding.
Ms Owen said areas not prone to flooding could see increased buyer demand, while in flood prone areas buyer interest could decline. This could also be exacerbated if flood affected areas attract higher insurance premiums.
She also expects repair and renovation costs to rise at a time when the building industry is already experiencing high demand, and labour and material shortages.
Ms Owen said severe weather events pose a significant challenge to the real estate and finance sectors now and in the future.
"The cost and implications for the housing market of the current floods is difficult to evaluate, given that for many coastal areas, clean up and damage assessment is yet to commence," she said.
"Additionally, the operational environment is very different, with monetary policy more likely to tighten in the next 12 months, as opposed to 2011, when the market was supported by a fall in the cash rate within a year of the flooding event."