First home buyers are saving almost $200 more per month than they were last year but it still takes more than eight years to gather enough for a deposit.
According to Canstar's latest First Home Buyer Survey, first-time buyers save an average of $1605 per month, which is 13 per cent, or $188 per month, higher than in 2022.
The savings boost means single income first home buyers have cut the time it takes to save a 20 per cent deposit by almost two years, to eight years and eight months.
A double income couple, each saving $1605, could cut the time to save a 20 per cent deposit by almost a year, to four years and two months.
"First home buyers being able to save more in a cost of living crisis shows how determined Aussies are to get off the renting treadmill," Canstar's Editor-at-Large and money commentator, Effie Zahos, said.
"Property prices are continuing to rise but rents are also rising to historic highs.
"Renters are no doubt feeling the pressure to get a foot on the property ladder.
"Nine in every 10 potential first home buyers are prepared to make compromises to buy sooner.
"Radically reducing their spending was top of the list for what they would comprise on followed by purchasing an older property and buying an apartment over a house rounded out the top three."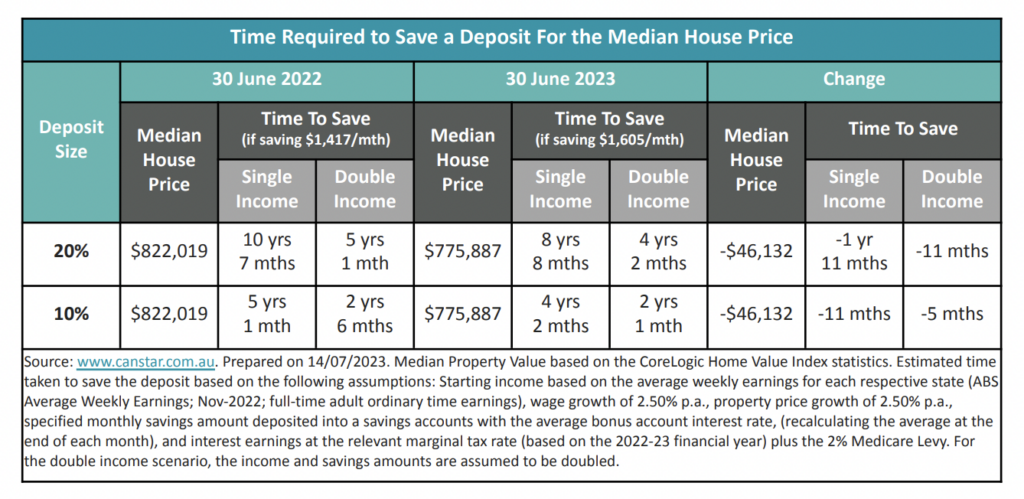 But saving more than $1600 per month may not be enough for some first home buyers, with 48 per cent admitting to feeling extremely or very stressed about building a big enough deposit.
A further 40 per cent said they feel "somewhat stressed".
Bills and household expenses were listed as the biggest expenses stopping 61 per cent of first-time buyers saving more money.
This was followed by buying rent (48 per cent) and going out or eating out (42 per cent).
"In an economic crisis, not everyone is going to be in a position to save more, let alone build up enough for a deposit on a home," Ms Zahos said.
"Focusing on what you can realistically save and being flexible with your timeline can alleviate the pressure until your financial situation improves and you can boost your savings balance."
And it seems the Bank of Mum and Dad is still open, with 29 per cent of potential first home buyers receiving some form of contribution from their parents or family, which is up from 21 per cent last year. 
Parents offering their children rent-free accommodation was the largest form of assistance (eight per cent), followed by contributing to their living costs or their deposit (both seven per cent).
"The Bank of Mum and Dad may not be closed to first home buyers but parents are certainly preferring to offer assistance in ways that don't require them to put their hands in their own pockets," Ms Zahos said.
"It's far less risky to have your kids live at home rent-free to help them save for a deposit than to just give them a deposit or put your house on the line."
The study also showed with rising interest rates lowering first-time buyers' borrowing capacity, most (51 per cent) intend to spend $600,000 or less on their first home.
A further 28 per cent are budgeting to spend between $600,001 and $800,000 and only 21 per cent have a budget of more than $800,000.
Almost three-quarters (70 per cent) of first home buyers also plan to apply for state and federal government grants.
"Buying your first home is a big decision," Ms Zahos said.
"One that you need to go in with eyes wide open.
"First-time buyers need to be realistic about what they can afford and stay committed to their budget."