More than half of Australian renters say they've been ignored in last week's Federal Budget, with a further 25 per cent saying the government measures aimed at fixing the housing crisis don't go far enough.
The consensus comes from a national survey of 2500 renters by Rent.com.au, which revealed 55 per cent of respondents felt they'd been ignored in the 2023-24 Budget.
In the Budget, the first in 15 years to deliver a surplus, Federal Treasurer Jim Chalmers announced several housing initiatives, including raising the rent assistance cap 15 per cent, increasing the supply of social and affordable housing, tax incentives to promote build-to-rent and expanding the Home Guarantee Scheme to permit applications from friends and family.
According to the survey, 59 per cent of Gen X renters felt there was "nothing for renters" in the Budget, while 55 per cent of Millennials felt the same.
Half of the renters in the Gen Z and Baby Boomer categories also felt "left out".
One surveyed tenant, Kate, 29, said renting had become "an uphill battle", in Brisbane.
"I work full time and have a workable income, but I'm already anxious about my lease renewal this July,"
"Knowing there's almost an inevitable rent increase is overwhelming, and I'm not sure where I'd go next if I can't afford it.
"I think it's great that the announced budget measures will help those most vulnerable right now, but as someone who sits squarely in the middle of the income range, I can't help but feel left out.
"It's a bitter pill to swallow."
The Silent Generation, born before the Baby Boomers, between the mid-1920s and the mid-1940s, were the most happy with the Budget, with 15 per cent saying the measures were good news.
Some 29 per cent of the Silent Generation thought the Budget measures were "a good start", while 45 per cent felt they'd been left out.
Rent.com.au Chief Executive Officer Greg Bader said more could be done to help tenants.
"We appreciate the government's efforts to address the rental crisis by providing additional relief to low income households – it's a good start," Mr Bader said.
"But we have over 32 per cent of our population renting and as you can see from the data, most have experienced a 25-30 pe cent increase in renting costs over the last two years.
"This is largely driven by some of the lowest vacancy rates our market has ever seen, so availability and cost are significant challenges for most renters, not just low-income earners."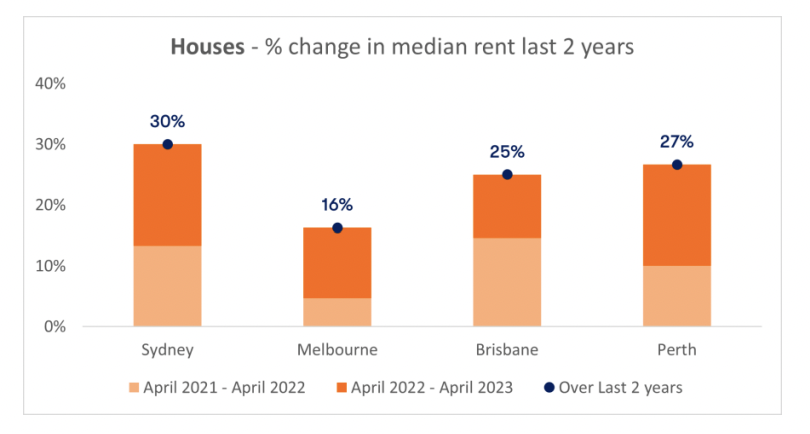 Rent.com.au data shows rental prices across the country's four biggest capitals have risen by up to 35 per cent in the past two years, leaving many residents struggling to pay bills and unable to afford places to live.
Over the past two years, Sydney's median house rent has risen 30 per cent, followed by Perth (up 27 per cent), Brisbane (up 25 per cent) and Hobart (up 22 per cent).
When it comes to rental prices for apartments, Darwin has recorded the highest surge in the past two years, skyrocketing a huge 44 per cent.
This is followed by Sydney (up 35 per cent), Melbourne (up 28 per cent) and Brisbane (up 27 per cent).
Mr Bader said increased immigration in the coming years could place further strain on an already tight rental market.
"We know it's not an easy fix and there is a level of causality in needing immigration to address staff shortages that will allow more housing to be built," he said.
"The budget allocation for more social and affordable housing and further encouraging build-to-rent are all positives – I guess the feedback we are getting is that these measures feel a long way off, people are seeking support now."