Real estate agents across Victoria are counting the cost of the devastating floods that have gripped the state, with some still unclear on the exact amount of damage.
Shepparton Real Estate Managing Director Ryan O'Connor said about 50 per cent of his agency's rent roll would be affected by the floods, but they wouldn't know to what extent until later this week when the water finally receded.
Speaking October 17 at 11am, Mr O'Connor said the Goulburn River wasn't due to peak for two more hours.
He said tenants in high-risk areas had already evacuated, and while some had water in their garages but not their homes, others did have flood waters indoors.
"The challenging thing is, we don't know the full impact yet," he said.
"There are so many streets that have flooded. More than half of our rent roll will be affected in some way."
Mr O'Connor said the heartwarming aspect already clear from the evolving flood disaster was that almost all of the agency's landlords had called to check in on their tenants.
"The really nice thing that we have seen is landlords calling us to check that their tenants are ok," he said.
"That has been first and foremost on their minds, 'Can you check in and see if the tenant's alright? Can you see if they need assistance? Can you see if there is anything we can do?'
"We've just been liaising with our tenants and landlords, providing information and making sure our tenants are ok."
Mr O'Connor said the agency, in High St, Shepparton, hadn't been flooded, but a couple of team members' homes had been affected.
He said one of the concerns that was already clear was that cleanup efforts would likely be hampered by a trade shortage.
"The biggest challenge I think we've already got is a week ago, prior to the floods, all of the handymen and builders that we use were already booked out weeks in advance," Mr O'Connor said.
"So the big concern is once the water has gone, what everything will look like.
"I don't know how we are going to turn this around in a timely fashion."
Rochester rallies
Over in Rochester, fourth-generation local Luke Ryan spent yesterday cleaning up at his Mackay St agency, Luke Ryan Real Estate.
He said he spent a good portion of the day ripping up ruined carpet after water ended up 75cm high in the office.
"Friday was the day," he said.
"I'd been out sandbagging and helping people, and I got home about lunchtime, and the water rose fairly quickly Friday afternoon and into Friday night before it started to recede about 6am Saturday.
"Now we're just starting the cleanup."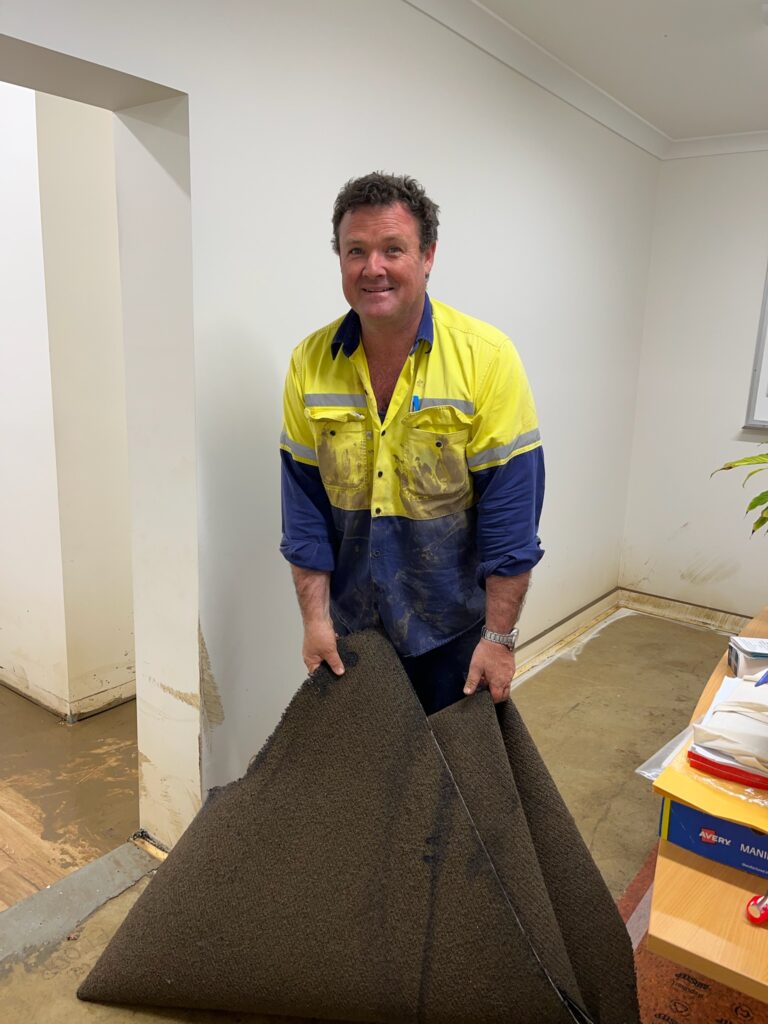 Mr Ryan estimated about 90 per cent of the Rochester community had been affected by the floods in some way and to varying degrees.
"There wouldn't be many people untouched by it," he said.
"My house didn't get flooded, but my shop did.
"But as a real estate agent, my biggest concern is, I've got a house settling tomorrow that's got water through it.
"We've got to try and navigate our way through that."
Mr Ryan said the vendors had offered to pay the buyer's rent if they could stay where they are currently living, which would give them time to complete repairs.
He said another client took ownership of their new property on Monday, and come Friday, it was flooded.
"It's heartbreaking for a lot of people," Mr Ryan said.
But Mr Ryan said in tough times, the Rochester community always banded together, and this spirit was already shining through.
"I've had so many offers from people who want to help," he said.
"One bloke, a client, has a house at Lockington that's not yet sold and is vacant, and he rang up to ask if I had anyone that was displaced and needed somewhere to stay, to get them in there because the house is empty.
"It makes you really proud to be associated with people like that."
Mr Ryan said the beauty of working in real estate was that you could work from home or work remotely and, even though he has his office to clean up, his clients are still top of mind.
"You've got clients with needs and you can't drop them," he said.
"I couldn't do that. So with this settlement, I'm waiting to hear back from the solicitor and we've got to form a plan of attack to get around the problem we're faced with.
"We will find a solution. So I'll just keep working on those things as well as try and get my shop clean.
"My brother's also a farmer, so I had to help him get his sheep to higher ground.
"So you're doing all of this, but you've also got to think of your clients and how you can help them.
"You can't forget your clients, they're number one."
Useful real estate links and articles for flood-affected regions.