Homes listed with energy-efficient keywords attract more buyer interest and sell faster according to new research from Domain.
The Domain Sustainability in Property Report has found that buyer preferences are shifting due to an increase in environmental awareness and escalating living costs, leading to greater consideration for more sustainable homes.
Domain's Chief of Economics and Research, Dr Nicola Powell said the pandemic had sharpened our focus on how buyers look at the world and the way they live.
"Sustainability issues have gained greater importance, with a staggering 90 per cent of Australians engaged to some extent on the topic," Dr Powell said.
The report looked at search and sales data and found Australian sellers were increasingly using energy-efficient keywords, such as solar panel, eco homes and insulation, in property listings.
Homes with sustainable features attracted more interest and sold faster, with an average of 8.7 per cent more listing views on houses and 5.5 per cent more views for units in 2022.
Sustainable homes come with a bigger price tag, and buyers and sellers can expect to pay $125,000 more for energy-efficient houses and $72,750 extra for units in 2022.
But Dr Powell said buyers don't start their search with environmentally-friendly features top of mind, with less than one per cent actively using keywords associated with sustainability.
"Sustainable features for many are a 'nice-to-have' rather than a 'must-have' when beginning a property search," she said.
"This doesn't mean buyers are not wanting more energy-efficient elements for their homes, particularly given research proves we have seen a conscious societal steer towards environmentally friendly outcomes.
"We believe it is due to a general lack of understanding of the short- and long-term benefits of sustainable features, market dynamics influencing search criteria and the compromises buyers are willing to make depending on the property cycle stage."
Chief Revenue Officer at Domain, John Foong, said buyers were clearly interested in sustainable features.
"While there is a paradox between buyers' preference for sustainable homes and those actively using energy-efficient keywords in their search, this doesn't mean buyers don't care about their next property being sustainable," Mr Foong said.
"It instead indicates that affordability and availability are taking precedence in the current market.
"As such, sellers now and in the future should continue to showcase the energy-efficient features of their home to win over buyers who are willing and able to make the investment."
Australian sellers have taken consumers' preferences for greener living into consideration, with the proportion of homes for sale that contained energy-efficient keywords in the listing climbing from 49.7 per cent in 2019 to 54.4 per cent in 2022.
Listings for houses were more likely to contain energy-efficient keywords, with 57.4 per cent doing so, while 44.6 per cent of unit listings contained sustainable search terms.
This was a consistent trend across all states, however, the NT, SA and the ACT led the way with 70 per cent of listings containing energy-efficient keywords, which could reflect local market habits and the diverse climates across the states.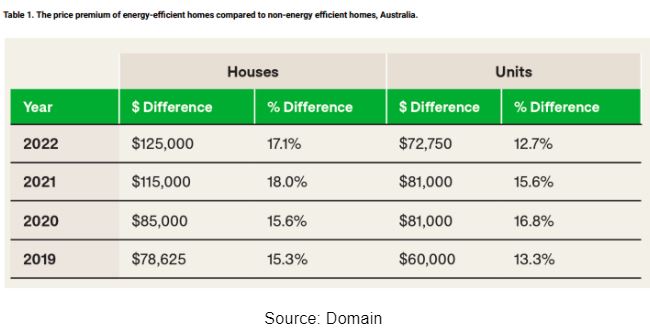 Overall, energy-efficient additions are being used more within property listings to attract, persuade and prove a home's value to prospective buyers as it provides homeowners with short and long-term benefits.
This, coupled with superior market performance of energy-efficient homes, make them even less attainable for first-home buyers or lower-income households.
Dr Powell said an approach to encourage and make sustainable homes attainable for all budgets was essential whether it be in the form of incentives for developers or homeowners.
"Once all homes have an expected minimum standard of inclusions, we hope to see less of an impact on price," she said.