Luxe Listings Sydney aired on Amazon Prime last Friday and the internet is blowing up about the Australian-based reality TV series.
While some felt it was following a format seen too many times before, many viewers flocked to social media to share their love for the show.
"Luxe Listings Sydney is SO good. I was not expecting this. It's like Real Housewives Of Sydney crossed with Selling Sunset and it's classically Sydney tacky," Hit Network radio host Nic Kelly said.
"This is super-watchable. Love how it takes us into Sydney life. You really get a sense of the neighbourhoods, the restaurants, etc. Plus it offers some Selling Sunset-style personal drama," Toronto star journalist Shinan Govani tweeted.
Even Amazon Prime's biggest competition loved the show, with Australia and New Zealand's Netflix director Que Minh Luu tweeting: "Am loving the Aussie Jewish representation on Luxe Listings."
"I have a new obsession to fill the Selling Sunset gap in my life. It's also making me really miss Australia," wrote one new fan.
"Luxe Listings is so addictive," one said, while another added: "Just discovered Luxe Listings. My new binge watch."
"What's not to love? Stunning Sydney views and the key to some luxury pads," another said.
A third fan shared some personal critiques, but overall loved the season.
"If you love reality TV and have an interest in luxury real estate in Sydney (mostly coastal), Prime's Luxe Listings Sydney is perfect as your next binge. The first episode struggles to establish the show's identity, but from then on its pure mindless entertainment," he said.
Other fans couldn't help but compare Luxe Listings Sydney to its international predecessors.
"The Luxe Listings Sydney real estate agents remind me of Million Dollar Listing Los Angeles," a viewer tweeted.
Another wrote: "Luxe Listings Sydney is giving me so many Selling Sunset vibes."
"Found an Australian version of Selling Sunset called Luxe Listings Sydney on Amazon Prime. Gosh, I just love luxury houses," a third agreed.
"If you love Selling Sunset but need something similar until season four comes out, watch Luxe Listings Sydney on Prime. It's all the big money real estate, with a touch of drama," one Twitter user said.
Another agreed, adding: "If you enjoyed Selling Sunset there's a show on Prime called Luxe Listings Sydney and it's basically the same except Australian and there's so much more DRAMA. I am living for it."
Each of the agents have developed their own fanbases, with viewers jumping over to the stars' Instagrams to share their love.
D'Leanne Lewis
"Seriously, keep showing the men how to stay in their own lane," one fan wrote on D'Leanne's Instagram.
"Queen, loved it! What an amazing role model for your girls," another told the female star.
"I think we can all agree the women in this show make it! I love Tammy [Soglanich] and I love D'Leanne," one fan wrote.
"You are portrayed exactly as you are! A successful, humble, beautiful mother and fabulous business woman. I am just one of your many fans! Fantastico Bella," an Instagram user told D'Leanne.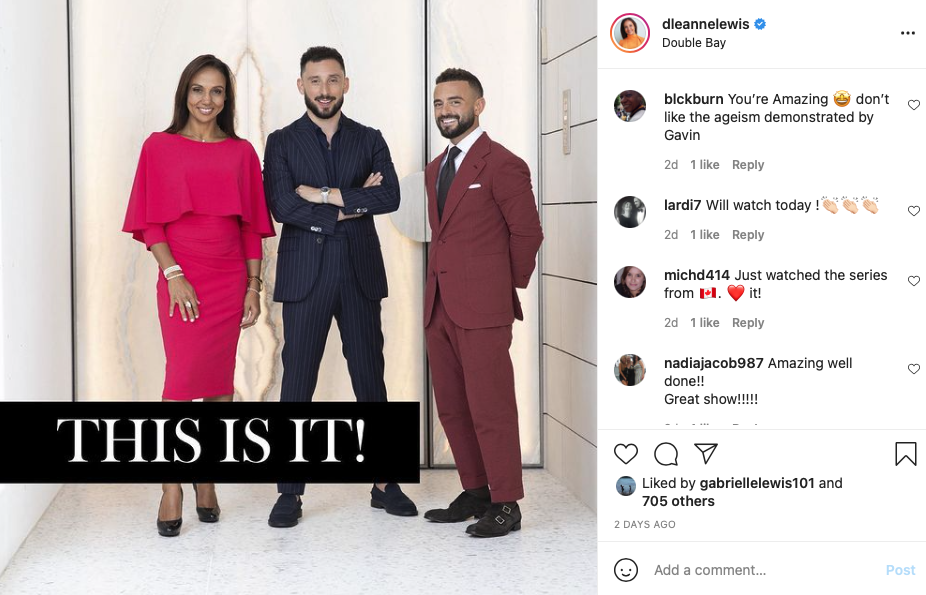 Gavin Rubinstein
"Gav, just want to say I thought the show was awesome!!! You were all true to yourselves. Well done," one fan told The Rubinstein Group founder.
"Huge congratulations, you are definitely a true gentleman," another commented on Instagram.
"Literally watched every episode. Job well done, Gav. It was honest, true, real and showing the world how it's done," said Novak Properties salesperson Lisa Novak.

"I'm a real estate agent in America, and have already binged every episode. I appreciated the knowledge and actual real estate talk in this show, rather than the drama filled show like Selling Sunset here in the States! You guys are awesome," an Instagram user wrote.
Simon Cohen
"Congratulations Simon! Great show. Love it! Better than the American one," one fan wrote, while another added, "You were my favourite on the show!"
Simon, you should be on TV all the time, such a natural. Brilliant! I watched the whole series in one sitting," one fan commented on Simon's Instagram.
"Great show! Your personality really shines through! Looking forward to watching season two," another wrote.