Australia's rental crisis has deepened with tight vacancy rates contributing to a record 12 per cent jump in capital city house rents over the past year.
Domain's quarterly Rent Report showed unit rents also jumped 12.2 per cent over the same period.
Asking house rents in Brisbane saw the sharpest increase, up 16.9 per cent, followed by Sydney (12.7 per cent) and Adelaide (11.6 per cent).
Brisbane also recorded the largest jump in unit rents, up 12.5 per cent annually, followed by Sydney (11.7 per cent) and Hobart (11.1 per cent).
Domain's Chief of Economics and Research, Dr Nicola Powell said the quarter had seen the longest stretch of continuous rental price growth on record.
"The numbers that we're seeing are a result of a combination of high purchasing prices locking people into the rental market longer, increased home loan costs being passed onto tenants, weaker investment activity throughout 2019-20, fewer building completions, greater household formation, investors cashing in on the recent price boom, and rental demand being boosted by the return of international students and overseas migration," Dr Powell said.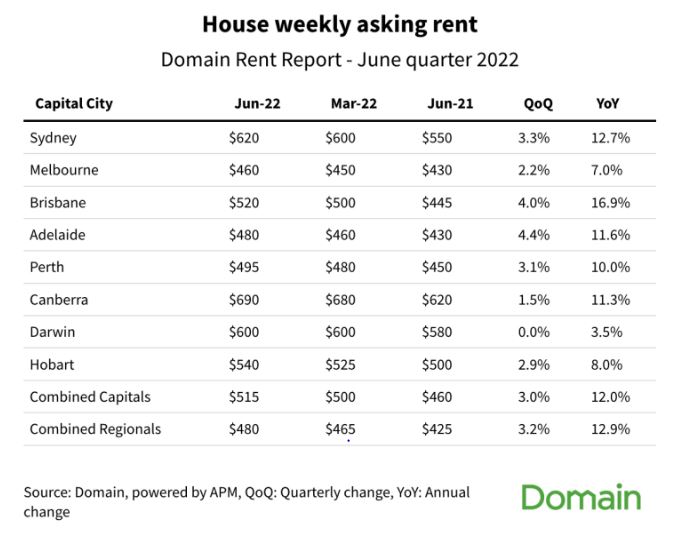 "While it is still a very competitive market, increased investment activity has helped to ease some pressure on tenants with national vacancy rates holding for the fourth month and the choice of rentals nudging higher over June."
In Sydney, unit rents are tipped to hit a record high next quarter as they rise faster than houses, after surging 5 per cent over the June quarter to $525 a week.
It's the steepest annual increase in 14 years, at 11.7 per cent, and means unit rents are now higher than they were at the start of the pandemic.
House rents jumped 3.3 per cent over the June quarter to a record high of $620 a week, the steepest annual increase since 2009.
While Melbourne is facing a sharp recovery from the pandemic-induced bounce, it remained Australia's most affordable city to rent houses.
House rents across Melbourne increased 2.2 per cent over the quarter, to a record high of $460 a week, while unit rents surged 5.1 per cent over the quarter to $410 a week.
This is the second steepest quarterly rise on record and resulted in the sharpest annual increase since 2008, at 10.8 per cent.
Inner Melbourne units were at the front of the recovery, surging $45 over the quarter, as the return of international students and lower affordability hurdles supported the recovery.
Looking at the other capital cities, house rents surged to record highs in Brisbane, Adelaide, Canberra, Hobart and Perth.
Adelaide was the most competitive capital city to find a rental in Australia, with house rents growing at a faster pace than unit rents, bucking the overall national trend.
House rents hit a record high for the first time in nine years in Perth, after a 3.1 per cent jump over the quarter to $495, which is 10 per cent higher than last year.
Canberra unit rents rose at the quickest pace since 2011 and for the first time in more than a year, while Hobart's rental growth slowed despite record highs, with tenants battling years of rising rents and ruthless conditions in which to find a home.
Darwin remains the highest yielding capital city for houses and units, yet unit rents have declined for the first time in two years, at 2 per cent over the quarter.
Dr Powell said while rents had increased on average across the country, not all areas had seen the same increases with many actually seeing falls.
"Despite rents hitting a new record high across the combined capitals, we have seen suburbs report improved rent affordability, such as Birmingham Gardens (NSW), MacLeod (VIC) and Middleton (SA)," she said.
"Yields are also rising across every capital city for houses and most for units, this suggests purchasing prices are fairing weaker than rents and boosting yields so it is a good time for investors to get into the market.
"We need to continue to see an increase in investor activity, address the supply of social housing and ensure we have the right government incentives for first home buyers – this will no doubt have a positive impact on easing rental conditions."