Ray White NSW/ACT Chief Executive Officer Andrew McCulloch said the night celebrated an amazing year, and now was the time to take market share, create competition and continue to lead the market rather than follow.
The Announcement:
For the first time in three years 1100 Ray White New South Wales | ACT members were able to come together in person for the network's annual awards.
Ray White New South Wales | ACT CEO Andrew McCulloch (pictured above) noted that 2019 was the last time they were able to come together for the state's annual awards.
"What a turbulent few years it has been! Since 2019 we have endured fires, floods, Royal Commissions, interest rate hikes and of course a global pandemic. We have also experienced the best market this country has ever seen," he said.
"This last year was a lot of fun but it's back to reality now. Now is our opportunity to take market share, to create competition and continue to lead the market rather than follow.
"Every market creates opportunity and the opportunity in front of us for the next 12 months is to grow market share. Now you may ask 'why is that important to me?'
"Market share creates more opportunity, the ability to recruit and retain staff, to grow our property management portfolio and of course the opportunity to let and sell more homes. Being the leader in each individual market is key to our ongoing success.
"Tonight we celebrate an amazing year and we should celebrate, but not for too long. We must be prepared for what is in front of us.
"It's ok to know we are number one but we must pretend we are number two. We must remember that complacency breeds contempt."
The state's coveted Top City Office Award went to the high performing Ray White Upper North Shore office which was also named the top business internationally for the group. Director David Walker thanked the White Family, his friends in the group and his team.
"There's a lot of people I want to thank, first and foremost is the White family. The longer that I'm in the group, the more I come to understand how much you do for us and how much support you give us and most importantly, how much you care. I want to say thank you for that," Mr Walker said.
"And to our corporate team, Andrew McCulloch, Tim Snell, Bridgette Collis – there's too many people to name. The support you give us is incredible.
"To all my friends in the crowd, all the business owners, all the salespeople, all the people I've come to call my friends, thank you for your unwavering support. I know that we compete in this environment but I truly believe that some of you are my closest friends and I want to thank you for that because your friendship means so much to me.
"And to my business partners, Greg and Matt. To Cathy and Therese, to my beautiful wife who is always supporting me – thank you.
"As a business owner, you start a business because you want to see people succeed. So to stand up here tonight getting the number one business in New South Wales and internationally within the biggest group in Australasia, it's such a privilege to watch all of you and how you've been over the last 12 months.
"Thank you for all of the work you put in, thank you everybody because we wouldn't be where we are without everybody in the business all working together as a family, as a group. Congratulations to all of you."
Fresh off the back of his win at the international awards where he was named the group's Top Performing Principal based on settled commission and number of sales, the dynamic leader Josh Tesolin of Ray White Quakers Hill also won the award for Top City Principal in both categories for the state.
Ray White Shellhabour was named the Top Regional Office – Settled Commission and Number of Sales while the office's Amanda Bonnici won the Top Regional Principal once again in terms of settled commission and also number of sales too. Ray White Macarthur Group took out the top gong for city office with the highest number of sales.
Ray White North Richmond director and sales agent Cindy Cash (pictured above) took home the award for Top City Salesperson in terms of commission in New South Wales and ACT for 2021-22, while Neil Campbell of Ray White Gerringong won Top Regional Salesperson in terms of commission.
Ray White Castle Hill's Kieron Stedman again won the Top City Salesperson award for number of sales while Pauline Goodman of Ray White Tamworth won the same award in the regional category.
Sam Capra (pictured below) of Ray White Park Coast East received the honoured CEO's Cup. Mr McCulloch said the award has always been his favourite of the night as it was earned not won.
"Tonight's winner has been a long standing member of our group and owned a number of different offices in their time. They have been a committed member of the Eastern Suburbs zone and at times been key to holding the zone together," he said.
"While not always agreeing with the direction from the corporate team and have challenged us in private, they have always supported us publicly.
"Tonight's winner has been a huge supporter of myself and while it hasn't always been in their own best interest they have put our group first and got behind our mission to continue to strengthen our stronghold on the east and have moved aside to let us grow."
Ray White Nepean Group's young gun agent Jasmyn Calgaro is one to watch and was awarded the Business Growth for an individual award. Meanwhile, Ray White Touma Group received the Business Growth award for an office after a stellar year.
The runner up offices for Business Growth were TRG, Bankstown Group, Woollahra | Paddington and Epping, while in the individual category, the runners up were Ibrahim Merjan from the Macarthur Group, Joshua Nassif of Bankstown Group, Ray White Upper North Shore's Domenic Maxwell and Tim Aaron of Ingleburn.
The Top Auction Office was once again awarded to Ray White Canberra for their determination in this area to list and sell by auction method, while the Top Auction Individual award went to Joshua Nassif from Ray White Bankstown.
In the regional space, Ray White Albury North took out the Top Auction office and principal Andrea Lever was named the Top Regional Auction Agent.
Ray White Castle Hill received the Community Service Award for their contribution to their local community.
Our top offices by way of Clients Choice in 2021-22 were Ray White Young, Yamba, Maitland, Kiama and Albury North. Nathan Wood from Ray White Toronto | Wangi Wangi, Ray White Maitland's Sharon Skelton, Neil Scott from Ray White Lismore, principal of Ray White Yamba | Maclean Daniel Kelly and Ashley-John Hatch from Shellharbour City were awarded the Clients' Choice Individual award.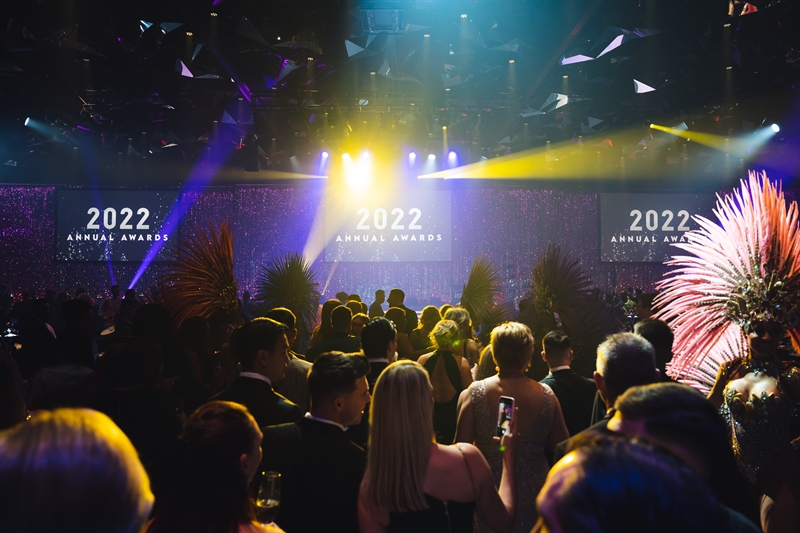 Marina Gear from Ray White Newtown | Annandale, Kayla Allen of the Diamantidis Group and Katelyn Beard from Mittagong were named joint Property Managers of the Year. Ray White Canberra, Ray White Maroubra | South Coogee and the Lower North Shore Group were all named as the state's Top Property Management Businesses.
Ray White Canberra, Ray White Diamantidis Group and Ray White Woollahra | Paddington all took out the Top Property Management Growth Business award while Jamie McCarthy from Ray White Double Bay, Jacinta Harrap from Ray White Albury North and Ray White Surry Hills | Erskineville's Anita Sano were recognised as the Top Property Management Business Development Managers. Meanwhile, Ray White Woollahra | Paddington, the Diamantidis Group and Ray White Canberra all received the Top Property Management Growth Business awards.
Matt Carvalho from Ray White Surry Hills | Erskineville took out the award for Top Commercial Referrer. Ray White Canberra were named the Top Office for Loan Market referrals and Angie DeBattista of Ray White Kiama received the award for Top Agent/Broker Partnership – Loan Market Referrals.
Karen Gosbell from Ray White Unlimited was named Administrator of the Year. Canberra also collectively won the best Administration Team of The Year too.
Ella Helene from Ray White Woollahra | Paddington was named the General Manager of the Year, while Ray White Yamba and Maclean's Daniel Kelly was given the Concierge award for Best Approach to Database Management.
Source: Ray White Group