The Raine & Horne website, rh.com.au, has been recognised as one of Asia's best with an award at the 2016 Asia Pacific Property Awards 2016, held at the glittering Shangri-La Hotel, Kuala Lumpur, Malaysia, earlier this year.
Bill Russell, Raine & Horne's General Manager International, was on hand to collect the award, along with Ms Zaidatul Adawlyah Zaki of Raine & Horne Malaysia.
"We are delighted with this global recognition for rh.com.au, as we are continually looking for ways to add value to our digital assets, such as our blogs and websites, for the benefit of our customers and our network, which includes offices in Australia, Asia and the Middle East," said Angus Raine, Executive Chairman, Raine & Horne.
To this end, Raine & Horne has now completed a Phase 2 enhancement of its award-winning website.
"We know the Raine & Horne website is ever-evolving, and we work closely with our network to ensure we meet both their needs and those of our customers," said Mr Raine.
"As such, we conducted a detailed design process for the enhancement of our residential website with a working group that included members of our corporate IT and marketing teams and representatives from our 300-plus global office network."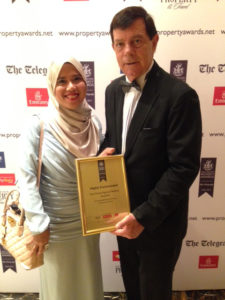 The rollout of the Phase 2 residential website involved extensive development and testing, and the focus for the enhancements was threefold, according to Mr Raine.
"The first objective involved revising the user interface to put more focus on calls to action such as 'find an agent' and 'appraisal requests'," he said.
The second step involved simplifying and streamlining the search function, enabling properties to be displayed with one click and then allowing users to refine the search parameters.
"A recent Microsoft study[1] found that our online attention span is down to 8 seconds. So if customers can't find easily find what they're looking for fast, they're onto the next site," said Mr Raine.
"With this research in mind, we've streamlined the website's search functions to help consumers find what they're looking for rapidly and to keep them coming back to Raine & Horne."
"Thirdly, we were determined the transition to the new design would not require a significant learning curve for office administrators or create additional work for our offices, and would have minimal impact on existing content.
"I'm happy to say it's been a case of mission accomplished in relation to meeting the three objectives, and the finished product has been well received by our customers, offices and the wider international real estate community."
Mr Raine also said that these will not be the last of the changes to the Raine & Horne website, as the real estate market and technology continues to evolve.
---
[1] http://time.com/3858309/attention-spans-goldfish/