The Expo Hall at AREC is always a favourite with principals, agents and property managers alike, this year was no exception.
Whether you were looking for innovative solutions to streamline your property management processes, or new ways to generate sales leads and listings, there was something to suit every need among this year's exhibitors.
There was plenty of innovation on show, lots of networking going on and many an exhibitor stand had something in the way of food or drinks, such as ice cream and cocktails, to inspire attendees to stop and chat about their products.
Here are our top 20 pics from the Expo Hall at AREC 2023 (alphabetical order).
@Realty
@realty is an innovative platform that revolutionises the real estate industry by empowering agents with higher commissions and providing them with a professional support team and a robust CRM system, making the process of buying and selling properties effortless.
The platform allows agents the flexibility to work at their own pace, in locations of their choice, and according to their preferred methods. At AREC 2023, attendees were particularly intrigued by@realty's commission structure, the team support the brand provides, its branding options and the ability to create their own business within the @realty framework.
For more information visit @realty.
Blink Plus
Blink Plus is a groundbreaking platform specifically tailored to meet the needs of the real estate industry, enabling users to effortlessly create captivating cinematic videos for their property listings. Blink Plus understands the importance of visually appealing content in attracting potential buyers, and has developed a DIY video production service that empowers real estate professionals and homeowners alike to showcase their properties in the most engaging way possible.
At AREC 2023, attendees were eager to explore the possibilities of capturing their own high-quality videos at any time and from anywhere in Australia, without compromising on the final output. With Blink Plus, you don't need to rely on expensive production teams or wait for them to be available.
For more information visit Blink Plus.
CampaignAgent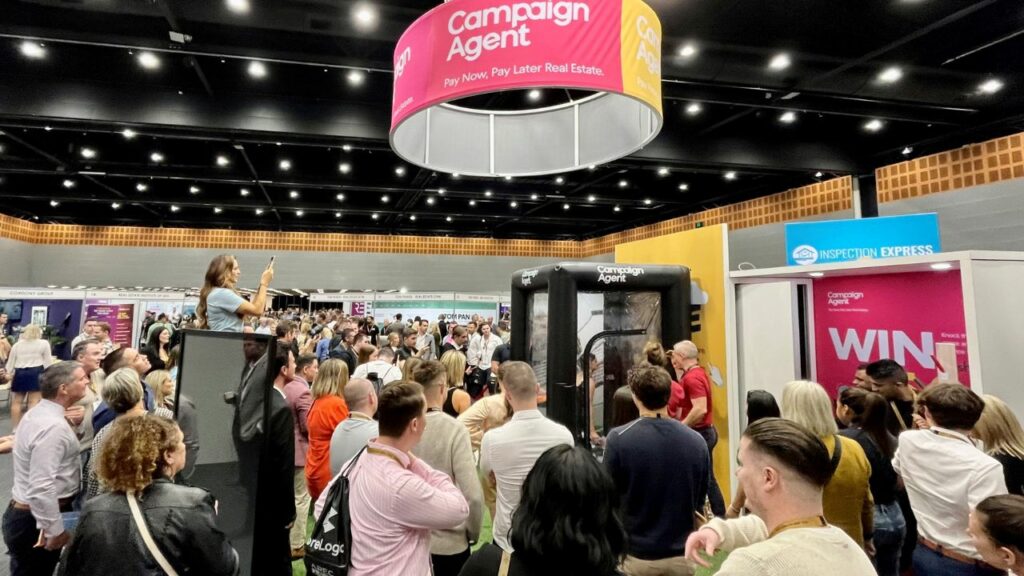 Australia's largest payment and funding solution, CampaignAgent works with one-in-four offices nationwide. Its digital Eftpos machine offers vendors upfront payment options and a convenient pay later feature for funding vendor marketing payments. These solutions help agencies free up cash flow and avoid chasing marketing funds if a property withdraws from the market.
At AREC 2023, several topics garnered significant interest, with attendees intrigued by CampaignAgent's CRM integration capabilities and marketing/authority signing platforms, aimed at increasing efficiency. There was also a lot of curiosity about how the pay later feature works, as CampaignAgent provides upfront funding for vendor marketing, staging, and home improvements, with funds collected at settlement or if the property is withdrawn from sale.
For more information visit CampaignAgent.
Downsizer
Downsizer aims to assist individuals in purchasing their next home without the need for a cash deposit. Instead, they require sufficient net equity for approval, while placing no encumbrance on the property.
With transaction fees starting as low as $1500, Downsizer offers a viable option for both existing and off-the-plan property purchases. At AREC 2023, attendees expressed their interest in the company's innovative solution, with some finding it too good to be true, echoing the sentiments of satisfied clients.
Many recognised that Downsizer provides a unique offering that is not available elsewhere. For more information visit Downsizer.
Generate Listings
Generate Listings empowers top agents in Australia and New Zealand with cutting-edge digital marketing solutions to take control of their lead generation. But Generate Listings is not just another lead generation provider, the platform offers comprehensive support throughout the entire process, including automated lead follow-up, accountability, coaching calls, and a motivated agent community.
Its short-form video strategy also improves lead quality and contact rates. Generate Listings also works exclusively with the agent in one to three suburbs they reserve with the brand to ensure their branding is consistent and their CRM is fully integrated.
For more information visit Generate Listings.
Liz
Liz is an innovative payments platform that optimises property management processes and empowers tenants by equipping them with an extensive range of tools to take control of their financial future.
At AREC 2023, Liz caught the attention of attendees with its tenant-focused solutions, as well as its innovative approach to reducing reconciliation problems—a common pain point in property management.
For more information visit Liz.
Lululiv
Lululiv offers principals a seamless way to build and own rent rolls. With its comprehensive solution, including inspections, accounting, and administration, principals can enjoy 100 per cent ownership without the day-to-day management responsibilities.
At AREC 2023, attendees were captivated by Lululiv's innovative model, addressing PM talent retention challenges, and its in-house developed technology. The brand's service philosophy and the opportunity to build future wealth also garnered significant interest.
For more information visit Lululiv.
Meson Agency
Meson Agency is a prominent on-shore contact centre that caters specifically to real estate agents. Its core expertise lies in conducting prospecting calls directly from clients' extensive databases, with detailed reports accessible through its user-friendly app. It charges per conversation.
At AREC 2023, attendees expressed keen interest in discovering how Meson Agency could contribute to their brand development and client retention efforts, particularly within the realm of property management.
For more information visit Meson Agency.
MyConnect
MyConnect is a dedicated team of Australians committed to simplifying people's
moving experience. MyConnect connects all utilities with just one phone call, has
established partnerships with Australia's leading service providers, and is 100 per cent independent, which means they lay out the available plans for you to select from.
At AREC 2023, attendees showed keen interest in learning about the benefits of partnering with MyConnect, exploring how their services could simplify their lives, and indulging in their ice cream stand.
For more information visit MyConnect.
Property Management Virtual Assistant
Property Management Virtual Assistant (PMVA) is a leading provider of premium outsourcing solutions to the real estate industry, with more than 100 years of combined experience.
It specialises in PropTech and offers back-office support for Australian real estate professionals. At AREC 2023, attendees were particularly interested in solutions that streamline workload, ensure data security, and provide tailored training. PMVA's offering allows property managers to streamline their tasks and dedicate more time to enhancing the overall customer experience. With our robust data security measures, PMVA prioritises the protection of sensitive information, ensuring trust and peace of mind for its clients.
PMVA also offers specialised training, tailored to meet the specific needs of each client. For more information visit PMVA.
REACH Australia
REACH Australia is a leading company dedicated to identifying and investing in new forms of property technology. It is committed to accelerating the growth of these innovative companies through its comprehensive program. At AREC 2023, the REACH stand showcased a collection of eight cutting-edge technologies.
Property professionals flocked to the REACH stand, eager to stay abreast of the latest advancements in the property industry. For more information visit REACH Australia.
Real+
Real+ is a distinguished company in the property management industry, specialising in training, coaching, mentoring, outsource trust, and community membership services. Its mission is to provide comprehensive support and guidance to professionals in this field, helping them excel in their roles and achieve success.
At AREC 2023, attendees were interested in how Real+ could assist with earning Continuing Professional Development (CPD) points, its PM coaching sessions and expertise in streamlining business processes.
For more information visit Real+.
RealShortz
Introducing RealShortz, an innovative app launched at AREC23, empowering real estate professionals to create captivating short-form vertical videos. With a user-friendly interface, seamless video creation, editing, and sharing, RealShortz elevates marketing efforts to new heights.
Agents can now produce stunning branded vertical videos from their phones in minutes, eliminating the need for complex software. Boost your online presence with RealShortz – film, share, and engage with clients effortlessly.
For more information visit RealShortz.
Red Rhubarb
Red Rhubarb is a distinguished company that excels in helping businesses stand out from their competitors and express appreciation to their clients through elegant settlement gifts. Red Rhubarb collaborates closely with its clients to create personalised gift boxes that showcase their brand, ensuring they receive all the credit they deserve.
For more information visit Red Rhubarb.
reHeroes
reHeroes is an AI-chatbot solution for real estate, serving more than 200,000 users in Australia and New Zealand. Its innovative chat solutions, led by "Alex," a tireless virtual assistant, streamline operations for agents and property managers.
Seamlessly integrated into existing channels, Alex enhances customer service, generates leads, and eliminates the need for extra apps. At AREC 2023, people were intrigued by reHeroes latest website chatbot, AiVa, which nurtures leads and delivers them to agents via their CRM.
For more information visit reHeroes.
Screencom
Screencom is a leading provider of digital LED window displays, offering a unique and customisable solution for businesses of all sizes. Its modular displays are designed to fit seamlessly into any window, providing an eye-catching platform for advertising and information dissemination.
At AREC 2023, attendees expressed a keen interest in the product's ease of use and flexibility. Its cloud-based software allows for effortless updates, accessible from any mobile device or computer. Users can easily drag and drop images and videos into pre-designed templates, ensuring hassle-free content management.
Screencom services customers across Australia, with local technicians available in every state and territory. For more information visit Screencom.
Sell Buy Legal
Sell Buy Legal conveyancing experts meticulously review contracts, safeguarding your interests in property transfers. Their clients trust them to navigate legal complexities for an efficient and stress-free experience.
The Sell Buy Legal team offers a conveyancing service specifically designed by agents, for agents.
At AREC 2023, the team observed overwhelming interest from attendees in discussions centred around improving the quality of conveyancing and exploring the impact of technology on the real estate industry.
For information visit Sell Buy Legal.
Tapi
Tapi is a property care platform that revolutionises maintenance by turning it into a selling point. Its intuitive tenant reporting and streamlined tracking system ensure efficient resolution of maintenance issues.
Tapi offers deferred payment options and asset depreciation calculations, making property managers the heroes of client interactions. At AREC 2023, people were intrigued by Tapi's focus on turning maintenance into a growth and retention strategy.
Its video, This is not a Tapi Story, generated a lot of interest at the REACH booth and showed the common stories clients relay before they join Tapi. For more information visit Tapi.
Universal Property Systems
Universal Property Systems is a leading company offering specialised Virtual Assistants in property management, sales and marketing, lead generation, and finance. Their expertise lies in providing skilled and accountable virtual team members who efficiently complete tasks while ensuring cost savings.
At AREC 2023, attendees expressed a keen interest in learning about the keys to successful offshore operations. The company also garnered attention for its training programs for virtual assistants, enabling individuals to enhance their skills and proficiency. Moreover, people were intrigued by the diverse range of positions and tasks that can be effectively managed offshore.
For more information visit Universal Property Systems.
Urban Angels
Urban Angels delivers innovative solutions that effectively secure listings, attract inquiries, and leave a lasting impression on vendors. It offers a comprehensive range of services, including photography, video production, floorplans, virtual services, and more.
The brand has offices in Melbourne, Sydney, and Brisbane, but can service other areas with its all-in-one marketing, simplifying the process of ordering, tracking, and delivering assets to expedite the online presence of your listings.
For more information visit Urban Angels.