A derelict property in a tiny Victorian town has created a frenzy.
The dilapidated four-bedroom home at 70 Henty Highway, Beulah, has attracted more than 20,000 views on realestate.com.au and it's not hard to see why.
Listed for just $49,000, the white weatherboard home is likely the cheapest in Victoria, with a quick search on realestate.com.au and Domain failing to find another property for less.
The list of features is lengthy but rather than being opulent, the buyer would be treated to broken windows, holes in the facade, timber-lined ceilings that are falling in, brick fireplaces that are caving in and creative graffiti sprayed onto the walls.
There's also a collection of stained mattresses, broken furniture and rubbish that comes with the home.
The listing for the property is also unique, with NorthWest Real Estate Director John Hadley taking a no-nonsense approach with the marketing campaign.
"This project is for the serious renovators and once you have filled numerous skips bins to get it back to a blank canvas you can see what you have to deal with," the listing reads.
"The water is connected, the power has been connected but not now and Beulah is on septic. The bungalow is probably the best spot to start before you tackle the house.
"Yes there have been white ants and no we haven't had any quotes to have it cleaned up, and I have no idea what it will rent for once it has been renovated.
"All potential purchasers should do their own due diligence because you'll need to watch more than a couple of episodes of The Block before you tackle this one."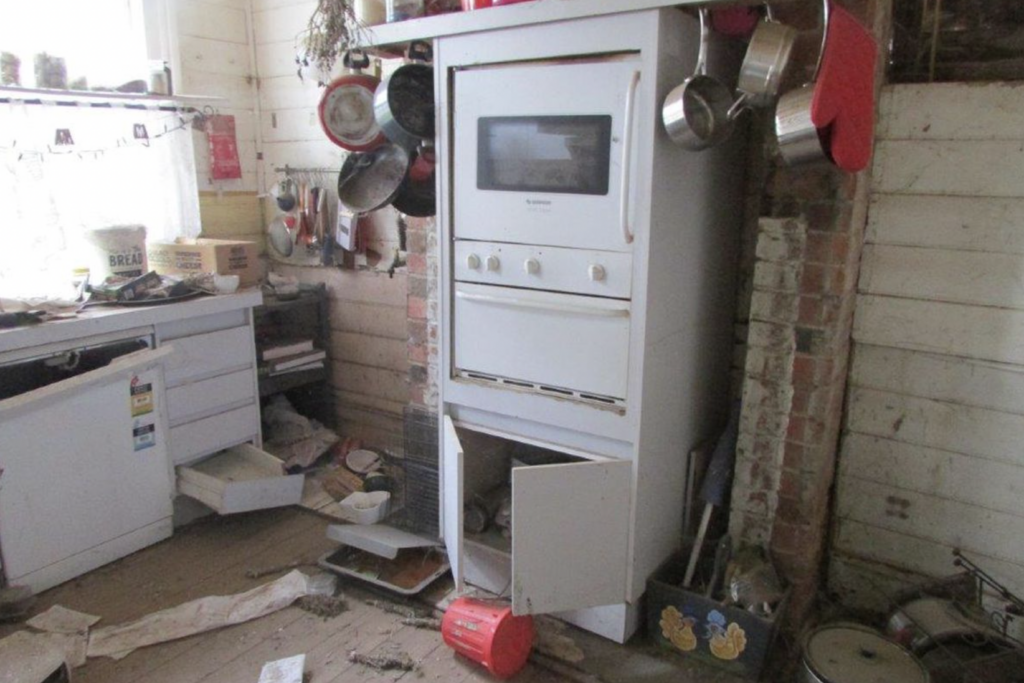 Elite Agent gave Mr Hadley a call to ask about his approach to running a marketing campaign for such a rundown home and he said it was simply a matter of "what you see is what you get".
"We don't want to sugarcoat it," he said.
"We tell it like it is, because you'll be found out pretty quickly.
"With these listings it's just a no nonsense approach and if it's crap we will tell you it's crap and if it needs work we will tell you it needs work."
With Beulah being located 395km north-west of Melbourne, about 25 minutes from Warracknabeal and one hour from Horsham, Mr Hadley said most buyers were coming from about 3.5 hours away.
"We don't want to drag them up here thinking they're getting a silk purse for the price of a pig's ear," he said.
Despite the home's poor condition, Mr Hadley said there had been a lot of serious interest in the property.
"It's just gone crazy," he said.
"We've got offers up around the $70,000 mark on it. I've had 20,000 views on it on realestate.com.au and about 9000 this week."
Mr Hadley said most of the buyer interest had stemmed from "house flippers" but one potential buyer wanted it for their investment portfolio.
"The lady that's leading the bidding war at the moment is going to renovate it and turn it into a rental," he said.
"But I said to them, 'don't ask me how much rent it's going to get because there's a lot of work to be done before we get to that stage'."
Mr Hadley said it was also hard to put a price on what renovating the property would cost, and a lot would depend on how much damage the white ants had caused.
Other features of the property, which is on a 1229sq m corner block just a short walk from the town's cafe and post office, include a one-bedroom cottage with another bathroom.
And as for all of the added "treasures" (junk) that come with home? Well, Mr Hadley recommends a bonfire and a packet of marshmallows.