Queensland has a new auction record after a luxury Gold Coast estate with views that span from Main Beach to Broadbeach, sold for $24.8 million on the weekend.
The stunning 'Gold Coast estate 'Alston', at 5 McMillan Crt in Southport, achieved the highest residential property sale in Queensland this year and set a new residential auction record for the state, according to realestate.com.au.
Auctioneer Justin Nickerson, from Apollo Auctions, called the tightly contested auction with three registered bidders.
He said the third bidder, who eventually went on to win the auction, only registered midway through.
"Whether that was a strategy to sit back or whether it was an impulse that came over them, I'm not sure but either way, it worked for them in the end," Mr Nickerson told realestate.com.au..
He said bidding started at $20 million and after four bids paused at $24 million for negotiations, before the buyers eventually raised their bid and the hammer came down.
"People are always interested in these sorts of homes and what they transact at," Mr Nickerson said.
"It's aspirational real estate and people really work their whole lives or climb the property ladder to reach them."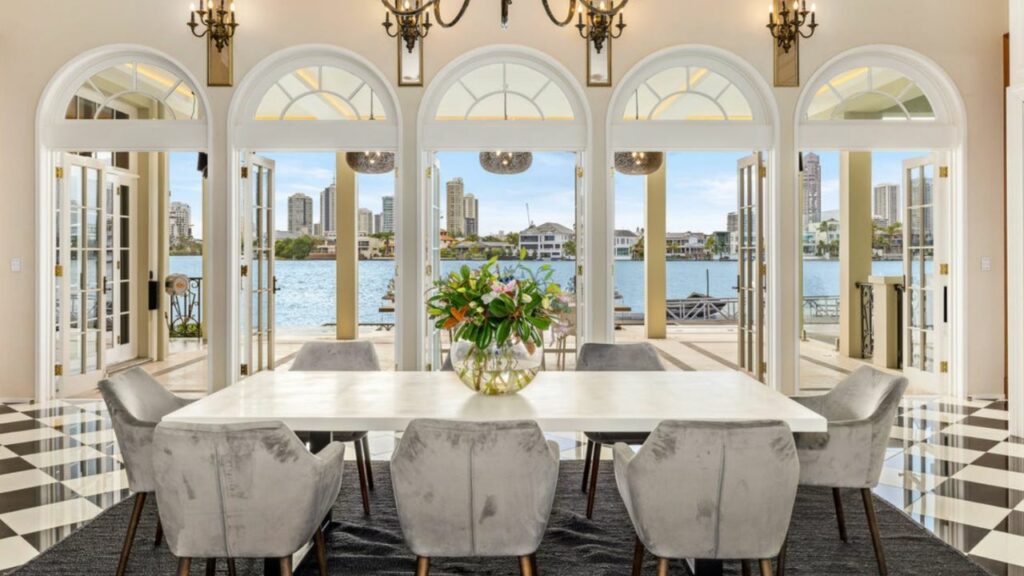 Alston was previously sold in 2021 for $23.75 million before heading back to the market 12 months ago.
The mansion has six bedrooms and seven bathrooms, with a luxurious master suite that occupies an entire wing of the house.
The luxury estate also includes alfresco areas, verandas, terraces, private balconies and a 360-degree rooftop viewing platform where the new owner will be able to see from Main Beach to Broadbeach.
There's also an indoor swimming pool, gym, sauna, two-level library, spiral staircase and an office.
The identity of the seller remains a mystery after they were granted an identity suppression by the Queensland Government.
Kollosche Principal Michael Kollosche and agents Sam Guo and Julia Kuo, along with Ray White Burleigh Group's Rebecca Moffrey ran the campaign.
Speaking about Alston back in May, Mr Kollosche said the upper end of the market has been strong in Queensland.
"We are seeing really, really strong interest across all of the higher end assets that we're bringing to market at the moment from interstate buyers," Mr Kollosche said.
"Some are looking at relocating, but a lot of them are just looking for a second home."