First home buyers trying to avoid the new NSW Government's reintroduction of stamp duty could risk paying too much for a home, according to a leading auctioneer.
AuctionWORKS Director Jesse Davidson said even though the Chris Minns Government had only this week confirmed they would repeal former premier Dominic Perrottet's annual land tax for first home buyers, he'd noticed a change in buyer behaviour at auctions in the lead-up.
"That is having an obvious effect on the sub $1.5 million market," he said.
"If you're a sub $1.5 million buyer, you've effectively got five weeks to buy a property and not pay stamp duty and to pay an annual land tax (instead)."
Mr Davidson said with many buyers thinking the same thing, it was possible some buyers could overpay for a property due to fear of missing out.
"You might pay a slightly higher premium because there's other people looking to do what you're doing now," he said.
Under the new State Government's First Home Buyers Assistance initiative, the threshold for stamp duty exemptions for first home buyers will be lifted from $650,000 to $800,000 and stamp duty concessions from $800,000 to $1 million.
The government will close off access to the former government's First Home Buyer Choice (FHBC) scheme on Saturday, 1 July 2023, but will include "grandfathering provisions" so first home buyers who had already opted in to the land tax can continue to pay it until they sell their home.
"If you're buying a $1.4 million asset, the stamp duty on that could be as much as $70,000," Mr Davidson said.
"So if you are intending on buying a stepping stone property now, something that you upgrade from in three to four years, then you'll only be in it for $9500 to $10,000 worth of land tax across that period, whereas it could have been $70,000 worth of stamp duty."
NSW Premier Chris Minns said the changes to the First Home Buyers Assistance scheme would result in a simpler, fairer system than FHBC, where first home buyers purchasing properties at the top of the range under the former government's scheme received a disproportionate share of the benefits.
"I understand the stress of trying to purchase your first home. I want more singles, couples and families realising this dream," he said.
"Under Labor any property purchased under $800,000 will have absolutely no stamp duty, and any property purchased up to $1 million will have a reduced rate."
Irrespective of the stamp duty issue, Mr Davidson said auction numbers had "spun" in the past two weeks.
CoreLogic figures back that up, with auction activity increasing 13 per cent on Saturday just gone.
According to the latest CoreLogic Market Indicator Summary, 1912 auctions were held across the combined capital cities, which was up on the 1692 homes that went under the hammer the week before and up on the 1672 auctions held at the same time last year.
The preliminary clearance rate held above 70 per cent for the third consecutive week at 75.3 per cent, which was up on the 74.4 per cent achieved the week prior and the 61.3 per cent recorded in the corresponding week in 2022.
There were 762 auctions held across Sydney last week, which was up 17.2 per cent on the previous week and 43.2 per cent above the 532 auctioned this week last year.
Last week's preliminary clearance rate was 78.2 per cent, which was the highest rate across the capitals and Sydney's second highest preliminary clearance rate this year.
Mr Davidson said there had been a number of "speed bumps" this year that meant vendors were waiting for a period of greater stability to list their properties.
With this in mind, he said June and July would perhaps be busier auction months than normal.
"When you're looking to sell your property and you're looking down the barrel of a state election that's just finished, you've got school holidays coming up, Anzac Day and Easter, you're sort of sitting there saying 'I don't know if I'm that keen to sell my property (right now)," Mr Davidson said.
"By the time that all wraps up, it's the end of April. So you really don't see stock until either late May or June, which is exactly what you're seeing right now."
Mr Davidson said as well as auction volumes increasing, the number of registered bidders had also risen from three in December to now sit at about 5.6 per cent.
He does expect this to taper off a little bit as more stock comes to market and buyers have more choice.
"The buyers that are here are still thirsty," Mr Davidson said.
"They're still wanting to get in (to the market)."
Mr Davidson said he'd also noticed a rise in the number of buyers paying what they could afford, as opposed to what a property might be worth.
"The bank says, we'll give you $2.2 million, but the bank says we'll give you $2.2 million for the right product," he explained.
"Where as a buyer is saying, the bank will give me $2.2 million, so I'll pay $2.2 million for this, even though it's only a $2 million asset."
Across the smaller capital cities, Brisbane was the busiest last week, with 121 auctions, with a preliminary clearance rate of 63.4 per cent.
At the corresponding time last year there were 124 auctions held with a clearance rate of just 54 per cent.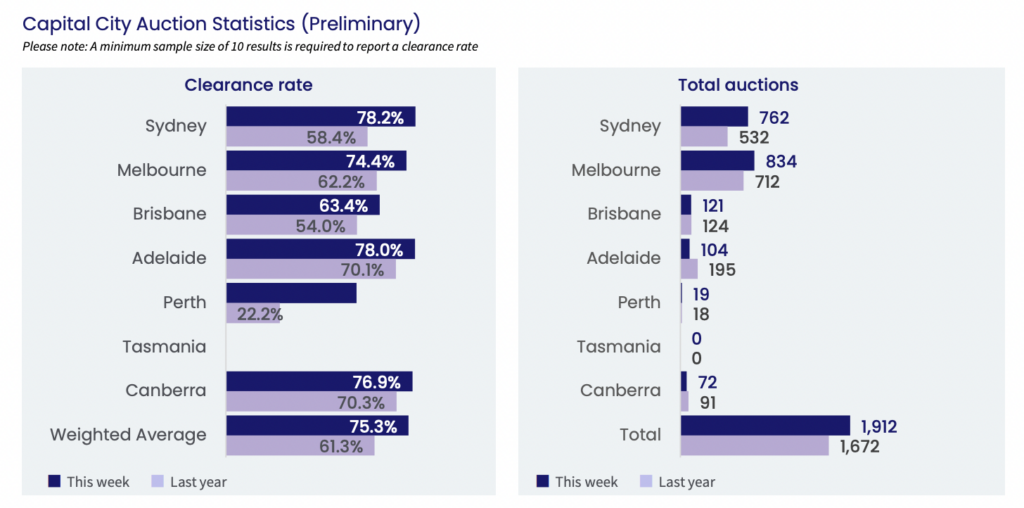 Ray White Queensland Chief Auctioneer Gavin Croft said the depth in buyers had remained strong despite interest rate rises.
He said the apartment and townhouse market had been performing particularly well with the rental crisis in Queensland forcing renters to look at buying in the affordable price brackets.
"I think it's really sparked that bottom end," Mr Croft said.
"It's not only about having a bit more control, it's about knowing what they will pay every week.
"We've seen a lot of people re-enter the market at that affordable level.
"The apartment and townhouse market across Brisbane has really come on in leaps and bounds over the past quarter."
Mr Croft said there had also been some good sales in the $3 million to $5 million bracket in Brisbane, with a lack of stock driving the demand.
"In many markets across Brisbane, stock levels are back around 30 per cent on what they were last year," he said.
But Mr Croft said this was starting to change and he expected auction volumes to increase in the coming weeks.
"I think in the coming weeks we're looking at even a 50 per cent increase in auction volumes over the coming weeks compared to what we've seen over the last month or two," he said.