Darwin sales agent Adam McCann was named Raine & Horne group's top salesperson for this financial year.
The leading Darwin firm commands 12 per cent market share of the property rental market and a 22 per cent share of the sales market. Mr McCann received his award at the 40th annual Raine & Horne Awards held at the Darwin Convention Centre last week.
"Adam's win is a terrific result for Raine & Horne Darwin, which has settled more sales than any other office in Darwin in 2017 and has arguably the city's biggest property management rent roll," said Angus Raine, Executive Chairman Raine & Horne.
"That said, the Darwin real estate market has significantly smaller transaction numbers than Sydney, Melbourne, and Brisbane, so it's pleasing that Adam's hard work and dedication has paid off with this stunning win."
Kate Smith, Principal of Raine & Horne Semaphore in Adelaide, took out the award of Top Salesperson (Principal).
Ms Smith beat regular category winner Ric Serrao, Co-Principal of real estate heavyweight Raine & Horne Double Bay.
"We are the fastest growing network in Australia, which means that while our history started in NSW in 1883 we are successfully diversifying across state and territory jurisdictions, which is simply smart business," said Mr Raine.
"Unlike other real estate groups, we truly have a national footprint, which is expanding at an exponential rate. Our commercial breadth means that we have the capacity to continue selling and managing real estate regardless of where different markets sit on the property clock."
Despite missing out to Ms Smith, Raine & Horne Double Bay's Ric Serrao won the Top Salesperson – (Principal) Dollar Value. He also won the Top Salesperson – Auction Listings category, while Raine & Horne Double Bay was named Top Office – Dollar Value.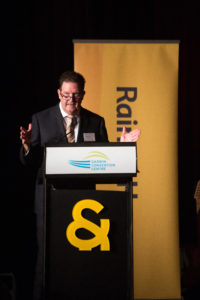 In a major surprise, the Eastern Suburbs real estate powerhouse was beaten into second in the Top Office – Number of Sales category by Raine & Horne Dee Why/Collaroy, led by the dynamic duo of Peter Mosedale and Lachlan Yeates. The hardworking Mr Yeates finished second behind Ms Smith in the Top Salesperson (Principal) Number of Sales. He was runner-up to Mr Serrao in Top Salesperson – (Principal) Dollar Value.
"Lachlan is one of our group's consistent achievers. He is quietly understated and methodical, which is part of his professional brand that resonates with vendors and buyers on Sydney's Northern Beaches," said Angus Raine.
"Peter and Lachlan, since taking over at Raine & Horne Dee Why/Collaroy, have totally immersed themselves in the Raine & Horne brand, attending consistently all our conferences and award events. Lachlan's win is well-deserved."
The 2017 Raine & Horne National Awards for Excellence winners include:
Top Office (Number of Sales)
Raine & Horne Dee Why/Collaroy
Top Office (Dollar Value)
Raine & Horne Double Bay
Top Office (Auction Listings)
Raine & Horne Double Bay
Top Rural Office (Dollar Value)
Raine & Horne Goondiwindi
Top Country Office (Dollar Value)
Raine & Horne Bathurst
Top Coastal Office (Dollar Value)
Raine & Horne Batemans Bay
Top Salesperson (Number of Sales)
Dib Chidiac, Raine & Horne Concord
Top Salesperson (Dollar Value)
Adam McCann, Raine & Horne Darwin
Top Salesperson (Auction Listings)
Ric Serrao, Raine & Horne Double Bay
Top Principal (Dollar Value)
Ric Serrao, Raine & Horne Double Bay
Top Principal (Number of Sales)
Kate Smith, Raine & Horne Semaphore
Max Raine Award
Anthony Vulinovich and Terry Menage, Raine & Horne Commercial Western Australia