Australia's smaller capital cities have continued to outperform their larger counterparts, fuelling a 0.7 per cent rise in dwelling values in March, new data shows.
The latest CoreLogic National Home Value Index showed dwelling values climbed in Brisbane, Adelaide, Perth and Canberra, along with several regional areas, while values dropped in Sydney and Melbourne.
Brisbane saw the most growth last month with values increasing 2 per cent, followed by Adelaide with 1.9 per cent growth, while Canberra and Perth each saw an increase of 1 per cent.
Australia's two largest property markets, Sydney and Melbourne, recorded property values fall 0.2 per cent and 0.1 per cent respectively.
Meanwhile, Darwin property values climbed 0.8 per cent and Hobart was up 0.3 per cent.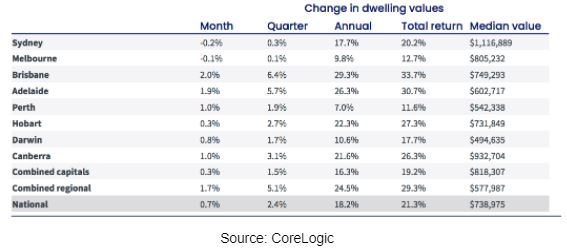 After a record year for property price growth in 2021, CoreLogic Research Director Tim Lawless said the market was losing momentum.
"Virtually every capital city and major rest-of-state region has moved through a peak in the trend rate of growth some time last year or earlier this year," Mr Lawless said.
"The sharpest slowdown has been in Sydney, where housing prices are the most unaffordable, advertised supply is trending higher and sales activity is down over the year."
"There are a few exceptions to the slowdown, with regional South Australia recording a new cyclical high over the March quarter and some momentum is returning to the Perth market where the rate of growth is once again trending higher since WA re-opened its borders."
The national growth rate is now 18.2 per cent for the past 12 months, after soaring as high as 22.4 per cent in January 2021.
While city markets have slowed, regional Australia continued to show resilience, with combined dwelling values rising at more than three times the rate of the combined capital cities through the March quarter.
Regional dwelling values increased 5.1 per cent in the three months to March, compared with the 1.5 per cent increase recorded across the combined capital cities.
According to the Australian Bureau of Statistics, the number of people living in regional areas of Australia increased last financial year by almost 71,000 residents, while residents living in the capitals fell about 26,000.
Transaction numbers across the country are also starting to slow down with the March quarter 14.3 per cent lower than the same time in 2021.
Mr Lawless said while nationally volumes are lower, there was again a divergence between different markets.
"Nationally, the volume of housing sales is coming off record highs but there is some diversity across the capital cities in these figures as well," he said.
"Our estimate of sales activity through the March quarter is 39 per cent lower than a year ago in Sydney and 27 per cent lower in Melbourne, while stronger markets like Brisbane and Adelaide have recorded a rise in sales over the same period."
Inventory levels also differed between locations with Sydney and Melbourne seeing advertised supply 8 per cent and 2.6 per cent above the five-year average according to Mr Lawless.
"With higher inventory levels and less competition, buyers are gradually moving back into the driver's seat," he said.
"That means more time to deliberate on their purchase decisions and negotiate on price."
Meanwhile, advertised stock levels in Brisbane and Adelaide remained more than 40 per cent below the previous five-year average and about 20 per cent to 25 per cent down on a year ago.
It's a similar scenario across regional Australia, where total advertised housing stock was 22 per cent below last year's level and 43 per cent below the previous five-year average.