Dealing with crowds and sticky beaks is a thing of the past for buyers, who can now bid on Sydney property with ease from the comfort of their own home.
Boutique inner west agency Urbane Property is offering buyers a technology platform to live stream auctions and participate in the bidding remotely.
George Nikos, owner of Urbane Property, said the technology takes the hassle out of buying.
"We are very committed to the digital world for real estate and to innovation," said Mr Nikos.
"With this particular product, it's not about enabling foreigners to bid but about the locals. Our area has a very village feel. People get very funny with their neighbours and might want the amount they pay to remain private. The product is for people who want to be discrete or might want to be at two auctions at the same time. We think buying agents may also see some benefit."
Based on the Xcira Auction Portal which is very popular in the US, buyers can register to bid remotely at Urbane Property auctions, with a successful soft launch last weekend ensuring the technology ran smoothly.
There are several properties selling with Urbane Property under the hammer over the next couple of Saturdays available for remote bidding.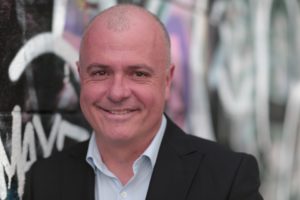 Mr Nikos said the technology suits the demographic of the inner west.
"Our demographic is primarily 35-45-year-olds, professionals, and people who are very quick adopters of technology. This area of Newtown, Camperdown and Erskineville is a small community and everyone knows everyone. People will know half the crowd in an auction.
"I see certain people at auctions get very nervous about the process. You can imagine how uncomfortable it would be bidding against someone you know very well. It's less stressful placing bids from home."
Technology not only empowers the buyer but makes life easier for agents too, according to Mr Nikos.
"I know people get nervous about disruption, but I don't think our industry will be made disabled or redundant from it. There are products that are making marketing better and the whole process more streamlined. You have to be in it and ahead of it. Technology has huge advantages for buyers, sellers, tenants and landlords."
While the market has softened Sydney-wide, Mr Nikos said there is still a lack of stock in the inner west and properties selling well at auction.
"I've been in the area 30 years and never seen it drop off, it just sort of stabilises. The craziness factor has gone where we had 10 people fight for a property, but there is still strong demand," he said.