For the first time, AREC's program combined three key industry-specific streams – residential sales, property management and mortgage broking. At the halfway point of the two-day event, we thought we'd share our top 10 takeaways from Day 1.
---
Note: This is a summary post. To get our detailed notes, images, takeaways and more from each speaker, you'll find those over on https://connect.eliteagent.com
---
Ryan Holiday – Ego is the Enemy
Takeaway 1 – "Ego sucks us down like the law of gravity."
In the first keynote address of this year's conference, US author and former director of marketing American Apparel, Ryan Holiday, convincingly argued why ego provides a barrier to success.
As he makes clear in his 2016 New York Times bestselling book – which carried the same title as today's speech – Ego is the Enemy.
As Ryan explained via satellite from Texas, "The first way ego holds it back is by preventing us from learning".
"The counterpoint is humility, which opens us to learning," he added.
Ryan said the reason ego leads to failure is because it "makes everything about itself when the key to success – in business and sales – is about other people".
Takeaway 2 – "Isn't a little bit of ego necessary for success?"
Ryan said he would push back against the assertion that one needs to have a little bit of ego in order to achieve success.
He noted that in between imposter syndrome on one side of the spectrum and ego at the other end, sits confidence in the middle. Ryan noted confidence was different to ego.
"Egotistical people want to fight head-to-head and make everything about them," Ryan said.
"Egotistical people want to overreach and are unaware of where their vulnerabilities are."
Josh Phegan – How to have your cake and eat it too
Takeaway 3 – "Would you like fries with that?"
There's a good reason why Sydney-based speaker, trainer and coach Josh Pehagan has become an internationally renowned high-performance coach. He has a talent for getting complex concepts across in a simple way.
Josh discussed McDonald's staff asking: "Would you like fries with that?"
He said this was a question that could be transferred to the real estate industry.
As he explained, the secret is to find your version of this question to ask at open homes. For Josh, that was: "Have you bought locally before?"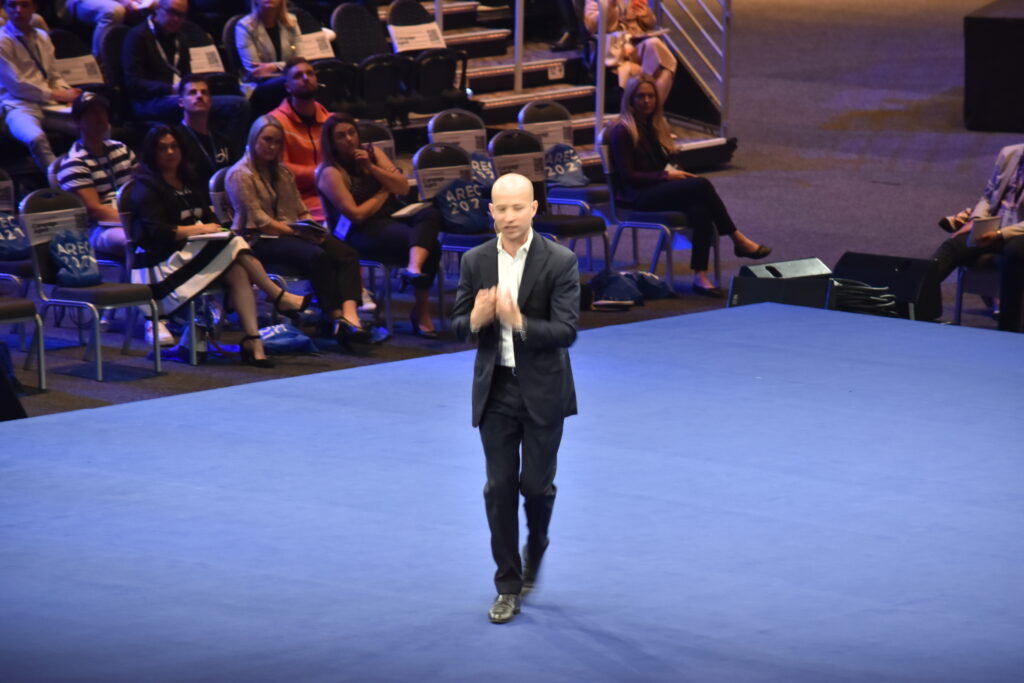 He explained that this can lead to other questions, such as "What are your plans for your existing property when you buy the next?"
"In what other industry would hundreds of people line up to talk to you on a Saturday to have you ask the equivalent of 'do you want fries with that?'"
Josh also mentioned the importance of vision, and asked the audience: 'Are you drama-driven, or future-focused?'
"If you play stupid games, you win stupid prizes," he said.
Josh said conversely, "playing long-term games with long-term people" was how to achieve success.
---
Note: This is a summary post. To get our detailed notes, images, takeaways and more from each speaker, you'll find those over on https://connect.eliteagent.com
---
Fiona Blayney: 2021 Vision; Same Same But Different
Takeaway 4: "You can pivot more than a ballerina in Swan Lake."
Real+ CEO Fiona Blayney's authenticity and relatability are two of her greatest strengths, and both were on full display at Day 1 of AREC.
Noting that Victorian residents had entered lockdown again over the past week, Fiona asked everyone in attendance to stand up and run on the spot.
There was a method to her madness, as she told everyone: "That's what you've all been doing for 16 months – running hard".
"Over the past week, we've had to do that thing we've had to do for the past 16 months – pivot," she said.
After "running" for the past 16 months, Fiona detailed four things she had reflected on in the lead-up to AREC.
"No.1 – Stop and reflect. This should be a true reflection on what has happened (since the start of the pandemic) and what you have learnt and gained and will take into the future from the year that was," she said.
"No.2 – Stop and pay attention to startups. Look at the agility startups have.
"What would you do differently if you were back in startup mode?
"No.3 – Stop and evolve.
"No.4 – Stop and be seen. Look at your digital footprint: When did you stop to see whether you are being seen? How is that working in a digital space?"
John McGrath: Brand You
Takeaway 5: "Everyone has greatness in them"
In addition to being one of Australia's leading real estate identities and the founder of McGrath, John also started AREC, and this was his first keynote speech since 2014.
Referencing Michelangelo's David sculpture, John said everyone has greatness in them.
"Some people are still a slab of marble, some are further refined," he said. "You need to know where you are."
John asked the audience if they were prepared to become the person they needed to become in order to succeed.
"We have the ultimate luxury of choosing who we need to be today," he said.
"Complexity is easy. Simplicity is hard."
John also advised attendees to "get rid of the excuses".
"Until you get rid of the excuse, you'll never get there," he said.
"Excuses and results never sit in the same place."
John concluded by saying: "Perhaps your greatest work is happening right now.
"AREC 2021 is the catalyst to bring out your greatness."
Sophie McGuinness: Hard work creates results
Takeaway 6: "Celebrate the wins"
Jellis Craig's Business Development Manager, Sophie McGuinness was in the unfortunate position of being 200m from the venue, but still having to deliver her address virtually.
She was in quarantine in a hotel at The Star on the Gold Coast after arriving from Melbourne earlier in the week.
Sophie explained that she always started the day with a gratitude journal, and that reflection and gratitude were two of the tenets she lived by.
Trust the process – review what you have learnt and implement it. Systems vs mechanics; training and support system/mentors; know your numbers; identifying the gaps.
She also said it was important to have a thorough and detailed business plan
By adopting a detailed business plan, Sophie said she no longer felt like she was "at the bottom of the rollercoaster" as often.
She also spoke of the importance of learning how to work smarter, not harder.
"Work on consistency within the business, as well as outside the business.
"Celebrate the wins… and finish your day (by being appreciative for) three amazing things that happened."
Dr Guy Winch: Emotional First Aid (Part 1)
Takeaway 7: "How is it that we take better care of our teeth than we do our mind?"
Dr Guy Winch is a leading advocate for integrating the science of emotional health into our daily lives and workplaces.
The bestselling author joined the conference remotely from New York and explained he was born an identical twin, "which made (him) an expert on favourites".
"We endure emotional injuries such as failure all the time," he said.
He made the point that you wouldn't tell someone with a broken leg to 'walk it off' or that 'it's all in your leg'.
He pointed out that rejection is common in the real estate industry: "Clients drop you, people who you thought were close colleagues might do something that suggests otherwise".
He said rejection hurts because we are hard-wired for it to hurt.
"When we suffer rejection, we can have a subsequent drop in self-esteem, and our self-esteem is like an emotional immune system," he said.
Takeaway 8: "Positive affirmations make people whose self-esteem is hurting and is low make people feel worse."
Guy explained the difference between positive affirmations and self-affirmations.
"Positive affirmations only work for someone whose self-esteem is naturally high," he said. "They are useless because they only work on those who don't need them."
He said self-affirmations, on the other hand, were effective.
"If you have been rejected, make note of every good quality you have – you are motivated, you are personable, you are good with clients…
"Failure is a great teacher but we rarely use the lessons from it," he added.
"You have to be able to look at your failing without being too self-critical."
Kate Smith: 200 sales a year – From basketball pro to real estate pro
Takeaway No.9: "Own the morning, own the day".
After a successful career playing basketball for Australia, Kate made a massive career change to take on real estate with the family business.
Eighteen years later, the Harcourts Smith business owner sells more property along South Australia's Le Fevre Peninsula than any other agent.
Kate does most of the vendor management for the agency.
Kate explained that she uses mornings for call sessions and gets in front of the client as often as possible in the afternoon.
Kate discussed her morning routine:
Own the morning, own the day.
Kate gets up between 3 and 6am…
If she can't sleep, she will get on the treadmill…
Cold shower
In the office by 7.30am
Pod meeting at 8am
Executive sssistant sets the agenda for the pod meeting (gathers what everyone achieved the day before)
Meeting goes for 15 minutes
All vendors updated at 9am (non-negotiable)
Never give the vendor a reason to call you – makes you more proactive…
That's a wrap for Day 1… We'll bring you more AREC 2021 news, dusted with some sun and surf from the Gold Coast, tomorrow.
---
Note: This is a summary post. To get our detailed notes, images, takeaways and more from each speaker, you'll find those over on https://connect.eliteagent.com