Stayz has announced its 2023 Holiday Homes of the Year with the top three luxury properties located on the Sunshine Coast in Queensland, Berry in New South Wales and Wilyabrup in Western Australia.
The gold medal-winning home was a Mediterranean-inspired 'Mykonos' castle on the Sunshine Coast.
Stayz travel expert Daniel Finch said common themes in this year's awards were the character and personality of the houses.
"They're intriguing, warm, charming and when you stay there it feels like the home speaks to you and tells you its story," Mr Finch told realestate.com.au.
"We're noticing a trend in the reviews with people loving the charm, old world character, history and unique character of houses."
Gold medalist: Mykonos
This slice of heaven, inspired by Mediterranean designs, is just a leisurely walk from the pristine white beaches of Sunshine Beach.
It offers an affordable and convenient European vacation experience for Australians, eliminating the need for expensive trips or lengthy flights.
The Mykonos villa features an impressive turret room, daybeds spread across the estate, and three alfresco entertainment zones that include a luxurious, elevated heated pool and a rooftop deck fitted with an outdoor kitchen and BBQ facilities.
Property Manager, Maryanne B said the property is perfect for entertaining.
"Our Mediterranean-inspired spaces such as the private turret room and numerous outdoor entertainment areas are meticulously designed to transport our guests instantly into vacation mode," she said.
Silver Medalist: Sinclairs of Berry
Sinclairs of Berry is a two acre farm quietly tucked away in the heart of Berry, offering picturesque views of the enchanting Broughton Mill Creek.
Ideal for sizable gatherings, this residence can comfortably sleep up to 18 guests and features an expansive, open-concept kitchen and dining area.
Complete with an outdoor fire pit and swimming pool, guests are welcomed throughout the year to find tranquillity and rejuvenation.
The host of Sinclairs of Berry said their objective is to ensure the most memorable holiday for their guests.
"We warmly welcome them upon arrival, spoil them with homemade cakes and preserves, adorn the house with fresh flowers from our farm, provide baskets filled with fresh farm eggs and herbs, have a beautifully set dining table, the fireplace and fire pit fully stacked and ready, and of course, the marshmallow jar is never empty," they said.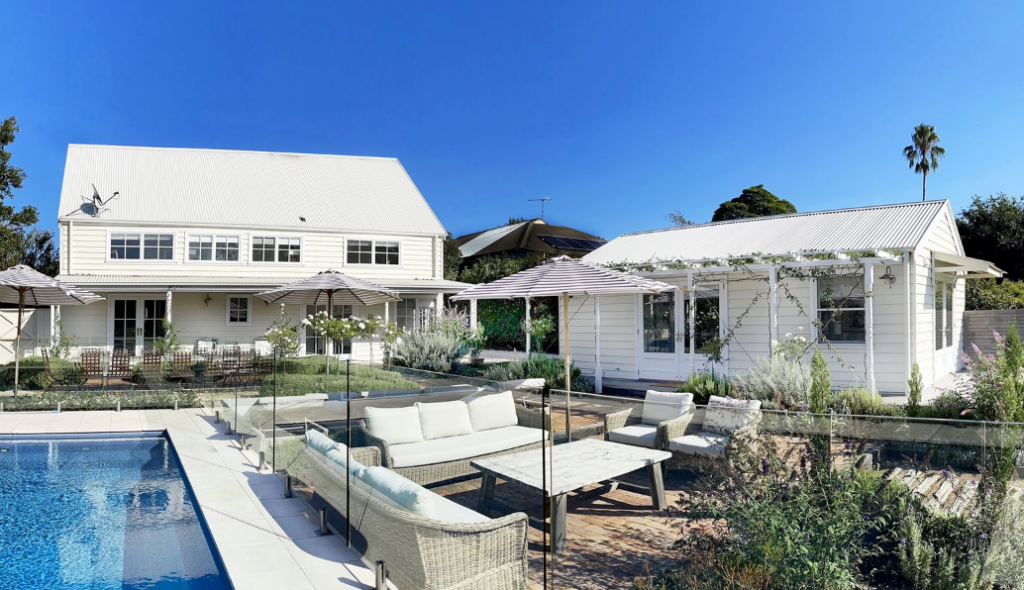 Bronze medalist: Birdwood Estate
Birdwood Estate castle boasts a majestic turret room and extends grandly over three stories.
The property is equipped with four inviting fireplaces, high ceilings, classic bay windows, and exposed beams repurposed from Westralia rail sleepers, offering guests an immersive experience reminiscent of the quintessential English countryside.
The host of Birdwood Estate said they strive to create an inviting ambience conducive to the creation of indelible memories.
"Whether it's a long-awaited family reunion spanning multiple generations or a cosy retreat with dear friends, our goal is to provide an atmosphere of warm hospitality for our guests," they said.
Magical Malindi
Magical Malindi offers awe-inspiring vistas of the grand Obi Obi Valley and serene Lake Baroon from its private decks encircling both levels, providing a harmonious blend of seclusion, peace, and luxury beneath stunning cathedral ceilings.
Host of Magical Malindi, Patricia R, said it is "a secluded getaway in the Sunshine Coast Hinterland, making guests feel distanced from the hustle and bustle".
"With its 32 acres of rainforest, it's a haven for outdoor and nature enthusiasts; its exceptional glasshouse design and Japanese influence lend it a unique charm, creating an extraordinary vacation destination," she said.
Sky High
Perched atop a ridge facing Mount Franklin, Sky High boasts a 360-degree panoramic vista with a full horizon view, featuring four bedrooms and bathrooms.
Its design encourages rest and revitalisation with features such as a heated saltwater plunge pool, stone fireplace, and a spectacular kitchen centrepiece, with Daylesford Country Retreats,
The host of Sky High said the house maximises the stunning 360-degree views of the hills, farm animals, and bushland, with the main living spaces capturing remarkable sunrises and sunsets, to offer guests "a truly unforgettable experience".
The Palm
The Palm is a luxuriously refurbished cottage offering a heated pool, spa bath, cosy fireplace, and sun-drenched daybeds, where guests can appreciate the sunrise from the front balcony and sunset amidst palm trees from the back deck.
The host said it is a short distance from the town and Byron's top cafes, shops, and beaches.
Qii House Eco Retreat
Inspired by the Chinese and Japanese philosophy of life energy, Qii House Eco Retreat is a spectacular mountain retreat in the lush rainforest of Erskine Falls.
Built by renowned architect Edgard Pirrotta and restored by local artisans, the home features an outdoor pizza oven, a tea house, meditation room, and an eco-bathhouse.
The Port Douglas Beach House
This tropical sanctuary features three tiers of luxury along with a rooftop deck, ideal for unwinding and family entertainment, offering indoor and outdoor alfresco kitchens, an elevator for convenient accessibility, and the unique addition of a swim-up bar in its pool.
Kim, the host of The Port Douglas Beach House said guests relish escaping city stress to the secluded, absolute beachfront location, encircled by coastal rainforest and fringing the Great Barrier Reef.
Alpine Barn Retreat
The Alpine Barn Retreat, inspired by alpine design, features four bedrooms, three bathrooms, soaring pitched ceilings, and exposed beams in an open-plan, well-lit living area that exudes both luxury and comfort.
Guests can enjoy hours outdoors in a picturesque entertainment area, complete with a stunning deck, BBQ, and a large in-ground pool that is set against the beautiful backdrop of Mt Buffalo.
Vintage Steel
Vintage Steel, is a 120-year-old former industrial hay warehouse that seamlessly combines historical charm with contemporary amenities.
It boasts eight bedrooms, four bathrooms, a captivating countryside view, and unique features such as a custom wood fireplace, pizza oven, 6m plunge pool, and an industrial kitchen with an island benchtop.