Dwayne 'The Rock' Johnson has made a fast and furious purchase, splashing out AU$45 million for a Los Angeles mansion.  
The Hollywood A-lister, WWE legend and US presidential aspirant and his wife bought the property after recently listing their $10 million Georgia farm house.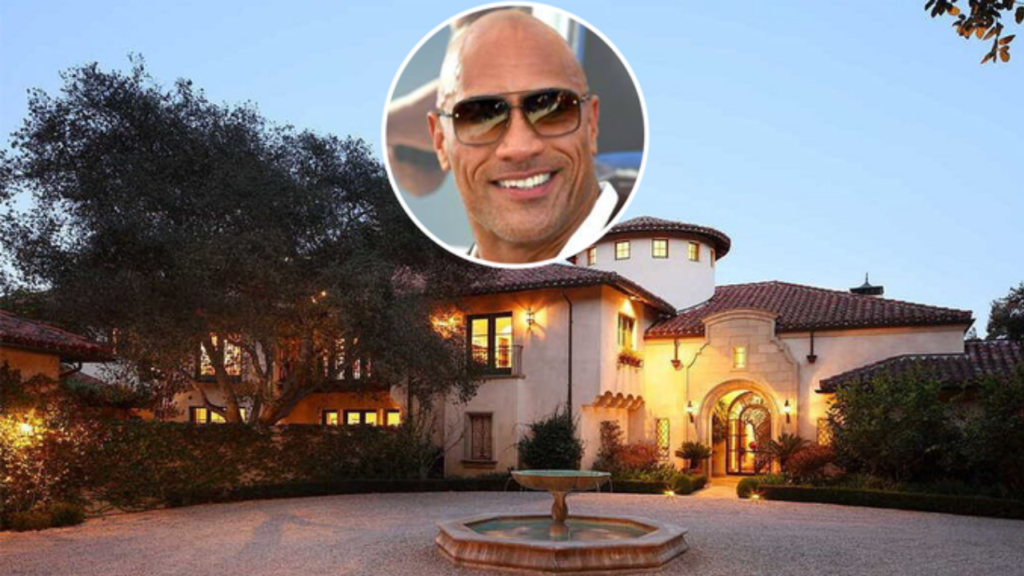 Located in the sought-after Beverly Park area of Beverly Hills, the six-bedroom, 11.5-bathroom home has 1637sq m of floor space and occupies a 1.4ha lot.
The property is no stranger to rock – it was originally built for Van Valen drummer Alex Van Halen in 1993.
Johnson and his wife, Lauren Hashian, bought the property from its most recent owner, former Mad About You and Aliens actor Paul Reiser.
According to entertainment website The Dirt, the Mediterranean-style house includes a spacious main residence and a guest house.
The palatial residence includes a world-class gym, full-size tennis court, a baseball diamond, and movie theatre.
It also has its own elevator and music studio (courtesy of its first owner), as well as indoor and outdoor swimming pools.
The red tile-roofed mansion features a series of turrets and balconies, and covered loggias.
The property sits at the end of a quiet cul-de-sac behind iron gates and has an olive-tree-lined driveway that leads to a central stone fountain.
In a recent interview with the US Today Show, Johnson said he would be open to running for US President. 
"I do have that goal to unite our country and I also feel that if this is what the people want, then I will do that," he said.
According to a recent US poll, 46 per cent of Americans approve of The Rock being leader of the free world.
In the meantime, Johnson will have to make do with Hollywood royalty as neighbours.
Actors including Denzel Washington, Sylvester Stallone, Eddie Murphy and Sofia Vergara all live nearby.