The number of first-home buyers taking up the Home Guarantee Scheme has surged, as younger Australians battle to get into the housing market.
According to the Home Guarantee Scheme (HGS) Trends & Insights report, the scheme supported close to one-in-three first home buyers in 2022-23 – a significant jump from the one-in-seven in 2021-22.
Following the expansion of the HGS, around 41,700 Australians purchased a home with government support, up from 32,500 in 2021-22.
Queensland had the highest concentration of guarantees out of all the states and territories in 2022–23, with about 25 per cent of all First Home Guarantees (FHBGs) and an overall first-home buyer lending share of 21 per cent.
While WA also had nearly 20 per cent of FHBGs and a first-home buyer lending share of 15 per cent.
Head of Research, Data and Analytics Hugh Hartigan said higher interest rates and reduced affordability meant more buyers needed government support.
"The broader macroeconomic environment with rapidly rising interest rates has substantially decreased mortgage serviceability with flow-on effects for affordability and this has led to first-home buyers relying more heavily (proportionally) on the scheme than in previous years," Mr Hartigan said.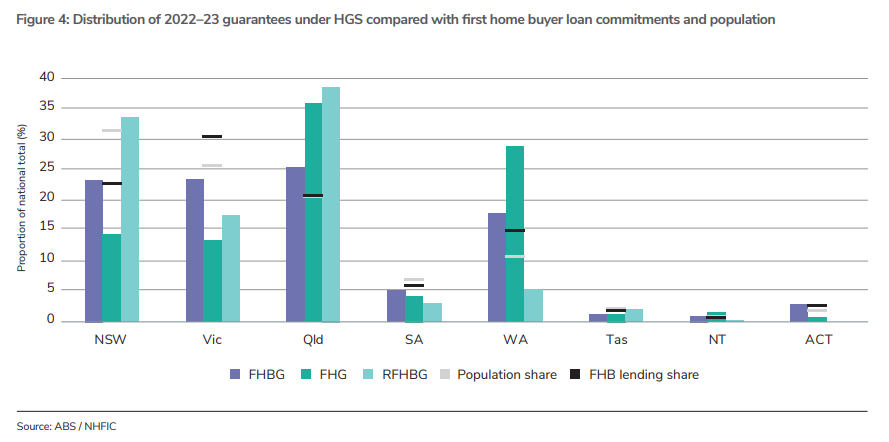 There's also been a big jump in the number of first-home buyers purchasing homes in regional areas.
Around 10,860 or more than one-third of all HGS guarantees were issued to buyers in regional areas in 2022-23, up from about 7390 in 2021-22.
Younger buyers have also been some of the major winners from the government packages, with half of all places being taken up by people under the age of 30.
While interest from first-home buyers aged 18-24 has risen substantially, to around 14 per cent of all purchases in the FHBG in 2022-23, up from three per cent in 2019-20.
In a sign that the property market has remained resilient, more than 9700 households, or just over 12 per cent of buyers, have already transitioned out of the scheme, with most of these buyers having accumulated enough equity to not require a guarantee. 
Chief Program Officer Home Ownership Jennifer Chew said so far, government support was making a difference for home buyers.
"The report demonstrates how each year the scheme is helping more Australians, including key workers and those living in regional areas, buy their own home sooner, and it's great to see the increasing number of participants who have built up enough equity to transition out of the Scheme," Ms Chew said.
The scheme is also helping a growing number of key workers purchase a home, including teachers, nurses and social workers. 
About 7721 guarantees were issued to key workers in 2022-23, up 37 per cent from 5,650 in 2021-22. 
In 2022-23, more than one-in-four of all guarantees under the FHBG were issued to key workers.
Meanwhile, less than 0.1 per cent of all borrowers in the scheme have fallen behind on their repayments.
The report said given the macroeconomic environment, arrears may rise in line with trends in the broader home loan market, however, they are currently below industry standards.