The housing crisis across the country could get worse after building approvals dropped to their lowest level in a decade, according to experts.
According to data from the Australian Bureau of Statistics (ABS), building approvals fell 0.1 per cent in March, while the government lifted immigration.
The fall was driven by a 2.8 per cent decline in approvals for private sector houses (falling to 8312 approvals) after an 11.3 per cent increase in February.
Total dwelling approvals fell in Tasmania (42.1 per cent), South Australia (19.1 per cent), and Queensland (6.7 per cent).
However, Western Australia, NSW, and Victoria all recorded increases in total dwelling approvals of 27.2 per cent, 3.1 per cent, and 1.7 per cent, respectively.
HIA Senior Economist Tom Devitt said the first quarter of 2023 saw the lowest number of building approvals since 2012.
"These disappointing approvals numbers are occurring as population growth surges with the return of overseas migrants, students and tourists," Mr Devitt said.
"This imbalance will see the affordability and rental crisis deteriorate further."
Master Builders Australia Chief Economist Shane Garrett said the total volume of new home building approvals was relatively flat in March compared with February, but continues to follow a downward trend since September last year.
"Concerningly, the inflow of new work remains significantly lower compared with a year ago, having retreated by 17.3 per cent," Mr Garrett said.
Mr Garrett said new detached house building approvals weakened again by 2.9 per cent, a 15 per cent reduction compared to the same time last year.
"While there was a small uptick in higher-density home building in March, it's far too early to say whether this is the beginning of a much-needed recovery given multi-unit approvals are still at their lowest levels since 2012," he said.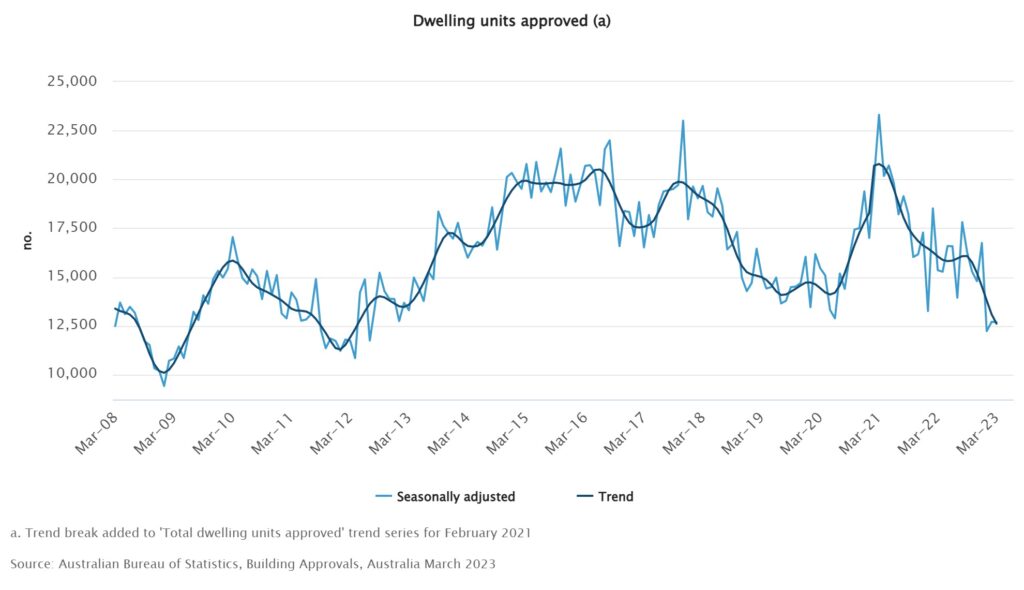 According to Mr Garrett, this continues the long-lagged response of Australian homebuyers to the RBA's interest rate hiking cycle, with further declines expected in the coming months.
"The adverse impact of last year's cash rate increases is still to fully flow through to the official data," he said.
"Further cash rate increases this year will have only added further weight to these declines."
Master Builders Australia CEO Denita Wawn said higher interest rates has been leading to declining building activity.
"We can see the impact of rising interest rates in the homebuilding market, and without appropriate fiscal measures at a federal and state level, we will continue to see further softening in the housing pipeline," Ms Wawn said.