Real estate agents today cannot afford to be 'average'.
In the business of helping sellers sell homes and buyers buy homes, an agent's future is in delivering exceptional services.
People's experiences and the relationships you build with them… that's what matters.
RE/MAX New Zealand singled out RE/MAX Go For Sold agent Brok Milligan from a network of exceptional agents and awarded him the Special Achievement in Marketing at its annual awards this year, in recognition of his great innovation and extraordinary initiative.
"Hey guys, Brok Milligan from RE/MAX Go For Sold and welcome to my 25 Days of Giveaways where you could win a prize, simply by joining me LIVE at 7pm each day from December 1st to December 25th So congratulations, you're all now one step closer to winning today's prize!"
And so it begins each evening in the lead up to Christmas Day, when the Palmerston North, NZ, agent invites the Facebook audience to play his game.
Each evening he opens a box on his giant Advent calendar and plays a video.
The audience tag people for a chance to win a place in the semi-finals – the more people they tag the more chances they have.
Brok chooses three and assigns a red, white or blue token.
The audience then watch the three pucks plink, bump and bounce their way down the game.
First token to the bottom of the plinko* board is the winner.
Brok looks in the box to find out what prize has been won.
Last year it all began with eight passes to Daytona Indoor Raceway, Palmerston North.
The final box was opened on December 25th at 7pm.
The winner, Belinda Mitchell, received the perfect summer prize, a bunch of passes to the local swimming park, The Lido Aquatic Centre.
Last Christmas was the second year for the initiative, so it's officially an annual event says Brok, who fully anticipates being known as 'that calendar guy'.
Brok says it started out as a basic concept in its first year and soon snowballed.
"Before I decided to do it again in 2018, I needed to recreate the concept. Then it hit me, Facebook LIVE!
"But that wasn't big enough. I wanted more winners, more excitement, and more exposure. That's when a semi-finalists race came about."
At first it was a winner's wheel, he even created it, but he didn't love it.
"That's when I made the plinko board. That was the winning recipe for last year's concept.
"But what about the sponsors?  I know, a video! But how will I add it into a live feed…
"See how it's just getting bigger and better?"
Brok says, logistically it's an absolute nightmare.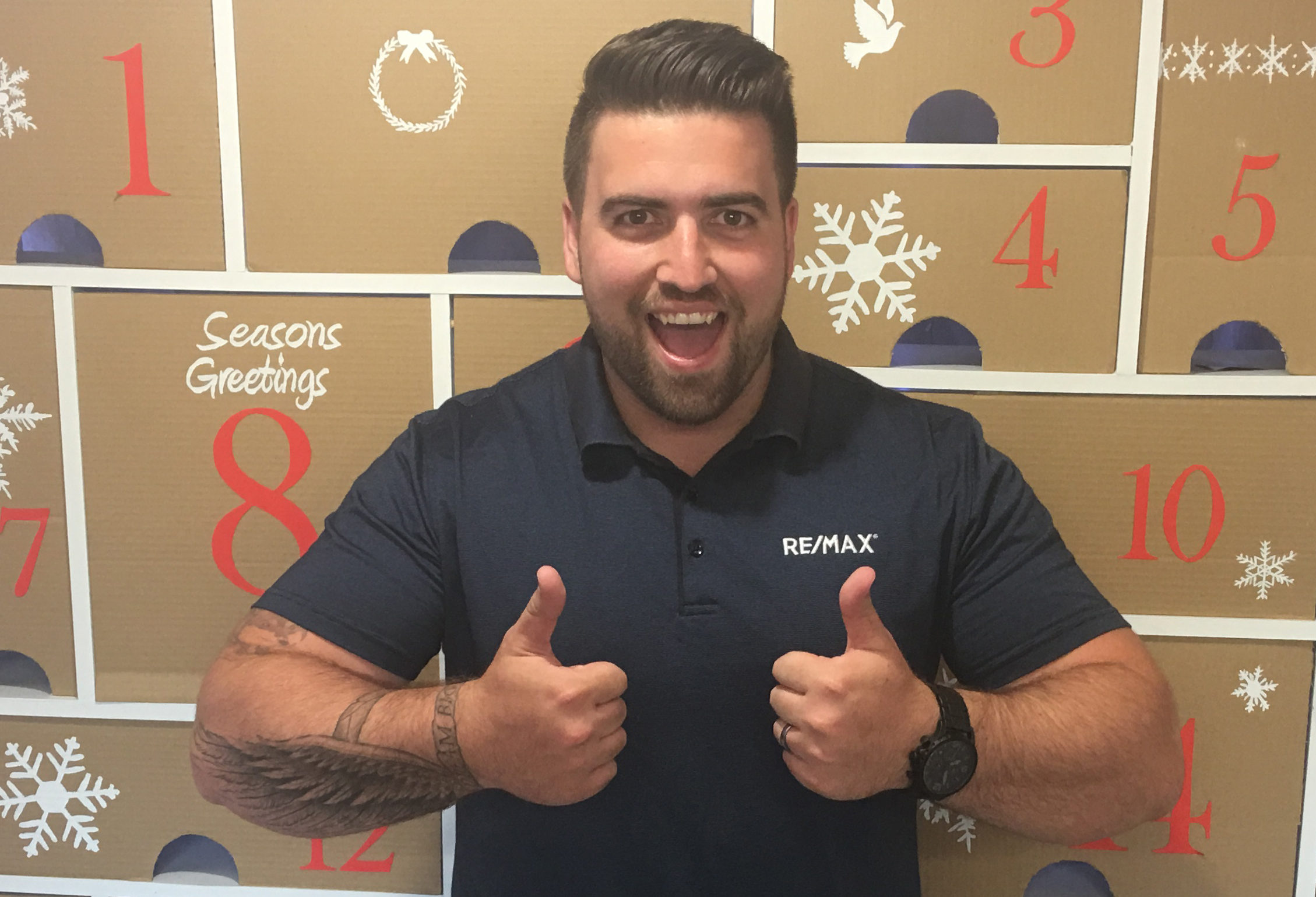 Brok sponsored some boxes himself and the others were sponsored by local businesses including a gym, restaurants, the cinema, leisure activities and carpet cleaners.
He got his property videographer on board and filmed a small video to help showcase the sponsor during the live feed.
As a thank you gift, all the professional footage is gifted to the business, which they can then use for their own social media marketing.
"It's also good for my videographer's business and mine. Everybody wins."
Brok can't recall exactly how he came up with the idea.
"The '12 days of Christmas' is more common but I'm naturally a 'go hard or go home' kind of guy! I just think of things, I think some more ideas, do research, expand and boom.
"I am always coming up with ideas that are absolutely ridiculous but do-able if you have the funds and go-get-it attitude."
He and his brother-in-law constructed the 1.8m high and 1.8m wide calendar back in 2017 and last year, Brok constructed the plinko board for the Christmas race.
Together the giant Advent calendar and the plinko board make for a whole lot of fun.
Brok has some changes planned for this coming Christmas.
"I'll have the plinko board and calendar in place as is, because I think the current concept is great."
However, this year he's considering sponsoring the entire calendar himself, choosing a winner each day as he did last year and then giving away all prizes to one lucky winner.
"It's not set in stone yet, but I've got time to think it over," he said.