Sunshine Coast real estate agency, Amber Werchon Property (AWP), won the Largest Residential Agency category at the Real Estate Institute of Queensland's (REIQ) annual awards for excellence, held at Brisbane City Hall on Feb 4.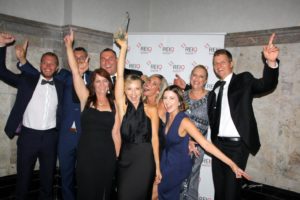 Founder and Director of AWP, Amber Werchon, has been the recipient of multiple industry awards over her 17-year career but said that receiving this award was one of the highlights.
"We had finalists in five categories at this year's awards, and because we have such a team focus, winning the large agency of the year award is the pinnacle because it's something we can all celebrate collectively as a team."
AWP currently employs more than 40 staff covering sales, project marketing, property management and administration.
She started her brand in 2008, and since then the company has gone from strength to strength, with the company recently being named in the Australian Financial Review's prestigious Fast 100 list, experiencing 62 percent growth from 2012-2016.
Amber thanked her team and support network and said that a huge part of AWP's success was a healthy workplace culture which is supportive and quality, not quantity driven.
"At AWP we foster lifelong learning and improvement, self-development and our focus is on delivering value; we are an organic company that grows, adapts and evolves to ensure we continue to remain at the very top of our industry and are therefore able to secure exceptional outcomes for our clients," Werchon said.